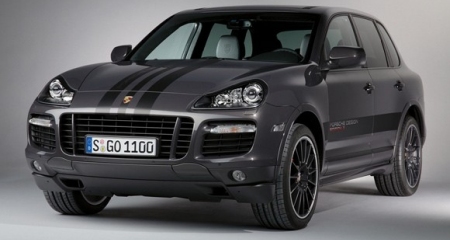 We have seen the Cayman S Porsche Design Edition 1 and the Boxster S Porsche Design Edition 2 before. Now it is time for the industrial design shop to show what they can do with the Cayenne GTS SUV. They came up with a limited version called Cayenne GΤS Porsche Design Edition 3. Limited to 1000 units worldwide and changed to meet the designer's ideas.
The special dark design stripes suite the Lava Grey Metallic paint color. Bi-Xenon headlights are standard for this version. Both are finished in black to tie in with the dark privacy windows and the monochrome black exterior package. Adding to the looks are the standard 21-inch SportPlus wheels, the wheel arch extensions and extended roof spoiler with a double-wing profile.
Within the interior you will find loads of 'Porsche Design Edition 3' badges around the tachometer face, door sill and placard in the glove box. Black leather interior with contrasting red stitching can be found on the seats, door trim, upper dashboard, floor mats and cargo area mat. The center console, the door linings, the inner sections of the door handle and the entire roof lining are trimmed in Alcantara.
There are no specific changes to the performance of the engine. However you do get a sport exhaust system, a six-speed tiptronic s automatic transmission and air suspension with a ride height that is .78 of an inch lower than standard.
Like the other limited edition models — the Cayman S Porsche Design Edition 1 and the Boxster S Porsche Design Edition 2 – this special model includes as standard equipment two Porsche Design accessories. The chronograph watch and four-piece luggage set bear the Porsche Design Edition 3 label.
You will have your own 2010 Porsche Cayenne GΤS Porsche Design Edition 3 for €79,100 in Europe and $89,900 in the US. In total only 1000 will be made of which 100 will be sold in the US.