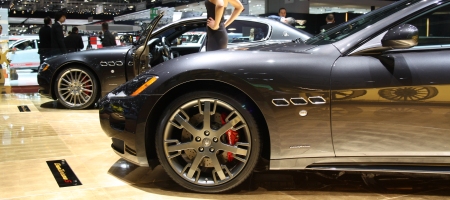 Like each year a new Maserati is introduced at every international car show. The GranTurismo S Automatic had its première at the Geneva Auto Show. It features a 4.7 V8 engine which develops 440hp (323kW) at 7000rpm. The maximum torque is 490Nm at 4,750rpm.
The main novelty is the combination of the automatic transmission with the Maserati V8 until now offered as 4.2 l with automatic transmission and 4.7 l with an electro-actuated gearbox. Thanks to the combination of the 323kW produced by the engine and the ZF 6-speed automatic gearbox, the Maserati GranTurismo S Automatic remains consistent with the original granturismo concept.
The gearshift story contains several elements of the Quattroporte Sport GT S, such as the elimination of the kick-down in manual mode. The Skyhook suspension system features continuously adjustable dampers. The Maserati GranTurismo S Automatic has some stylistic differences like the new under-door mini-skirts and the new 20″ wheel rims with "Trident" design.