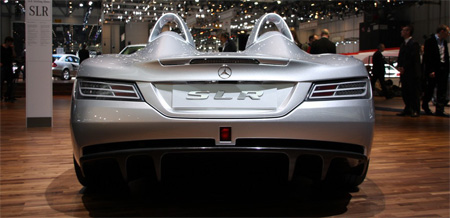 Mercedes showed the new E-Class Coupé in Geneva. Sadly they didn't bring the E-coupe 63 AMG to Geneva or any other AMG model for that matter. Luckily the McLaren SLR Stirling Moss was there to make up for it. The final episode in the SLR story is dedicated to Sir Stirling Moss and will be build in a limited run of 75 cars.
Production starts in fall of this year and the last car is expected to leave the McLaren factory in december 2009. After that the era of McLaren-Mercedes ends and both part ways to create their own supercars.
The SLR Stirling Moss has a supercharged V8 with 650 hp and the same automatic that can be found in the SLR 722. This roof and windowless SLR sprints from zero to 100 km/h in just 3.5 seconds and tops out at a staggering 350 km/h. This instant-classic is available for 750.000 euro.