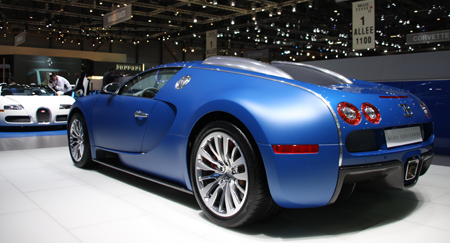 Last night Bugatti showed it's one-off Bugatti Veyron Blue Centenaire edition to the world. Today we had some time to have a closer looks at Bugatti's latest limited edition, a very limited edition indeed as the Veyron presented is the only one Blue Centenaire Veyron that will be made.
This Bleu Centenaire Veyron is one of the 300 Veyrons that will be build by the company in Molsheim, France. You can identify the Bleu Centenaire edition easily by it's matte blue and metallic blue paint. If you look closer you can also identify this limited edition by the unique LED lights from the Veyron Grand Sport, the aluminium air inlets, chrome mirrors and a strip of brushed aluminium along the roof.
Bugatti made a set of brand new and unique wheels for this edition. In the interior you will find a special plague that show the first Bugatti conceived a 100 years ago. The interior is made of the finest leather and in a color called 'snow beige'. Unlike previous rumours the engine is the same as the standard Veyron at runs at 1001 hp. However one modification is made to the engine, the engine is painted in two different colors.
Bugatti revealed to us that so far 200 Veyrons have been build and 55 more customers are still waiting for their Veyron. Bugatti expects the remaining 45 Veyrons of the limited production run will be sold this year. That means that Bugatti will have to think about the future of their brand and possible new models that build on the success of the Veyron.