Who do you want to impress with an Audi RS6 Avant? Your neighbour next door when you tell him that you took your kids, dog and wife for a weekend trip to your parents with a top speed of 280 km/h. To make him even more astonished and staggered you should tell him you went to MTM, the Audi specialist from Wettstetten near Ingolstadt, Germany.
MTM managed to boost the high-powered 5.0 l twin turbo V10 engine. With electronic ECU modifications only, the engineers have boosted power to 656 bhp at 6,180 rpm. If you want to they can and will electronically regulate the top speed to 279, 290 or 310 km/h. This is just a part of the performance data of the most powerful car ever produced by the tuning specialist. A station wagon that even outshines most other super sports cars.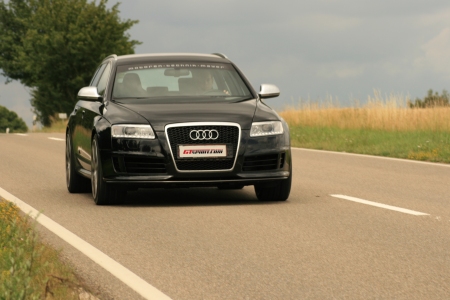 We got the chance to take this special setup onto the road. An experience showing us the high quality standard of Audi and MTM. The RS6 R is the best and fastest travel companion we ever drove. The power station is fully loaded and equipped to suite you in any situation. Not just as at high speeds but also when driving around in surburban areas.
Like a wolf in sheep's clothing the RS6 R can and will attack when you ask it too. The torque of 785 Nm is always available under your right foot and enough to out run many ultimate sport cars. You will reach 100 km/h from zero in an unbelievable 3.9 seconds. It easily kept up with the MTM version of the R8 – the R8 R.
The explosion of sound we experienced with the R8 R was never available. The distinctive and dark scream from the back wasn't any different from the 'normal' version. To solve this 'issue' an advanced version of the kit has been developed. By adding a stainless steel exhaust system with throttle control downstream from the catalytic converter and a sports air filter the RS6 R delivers an additional 46 bhp which makes a total of 702 bhp. Unfortunately this system was not available yet during our test drive.
Next to the engine modifications a re-styling campaign can be included into the package. It includes a different front spoiler lip and rear diffuser both from carbon-fibre. The slotted brake disks and six-piston monoblock brake callipers will be installed to the front, plus sport dampers.
The version we drove had 21-inch MTM bimoto wheel rims in 10.5 x 21-inch and tires with size 285/30ZR21. As alternative you can also get the forged 20-inch version. All depends on your needs and completeness of your package. We suggest you to take the whole package of course.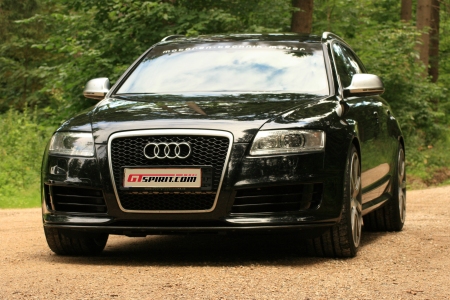 The overall drivers experience was less sporty then expected. The muscular feel around the Audi is still there. The luxurious feeling will overwhelm you. MTM added tons of power and torque which gives you a proper kick in the back you would only expect from a small agile sports car, not a 2 ton power station. This RS6 R is a ridiculously fast and a beauty for long trips. Just kick back and relax, put the cruise control on 300 km/h and play a DVD with your favourite Jazz concert. You will reach your destination fast and easy!
For those who seek more information on the MTM RS6 R check out this site or call +49 (0) 841 – 98 18 80! Your personal dealership or importer can be found here.