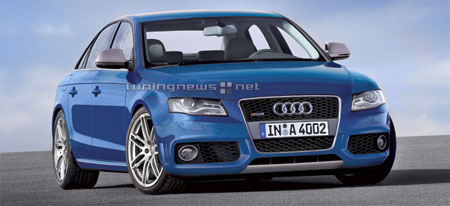 Car Magazine reports that the 2009 Audi RS4 won't have a V8 engine like the current model but instead Audi chose to downsize it's cylinder count for the RS4. This means the new Audi RS4 will have the same 3.0 liter V6 as the 2009 Audi S4. The move from 8 to 6 cylinders is caused by the worldwide emission discussion and manufacturers targets to reduce overall CO2 emissions in the next couple of years.
Car Magazine also got some answers about the upcoming Audi R8 V10 when they sat down with a high-ranking Audi official at the Audi Q5 introduction. The Audi R8 V10 will be naturally aspirated and uses the same engine as the S6 and S8. This takes rumours about the use of the twin-turbo RS6 engine in the V10 R8 out of the way.
Interview:
What about this forced-induction RS4? The big news is that the next RS4 will get the same 3.0-litre supercharged V6 that will power the S4. When asked whether the market would accept the reduction in cylinder count, our source shrugged, pointing out that the original RS4 was a forced-induction V6 and only when Audi produced the current V8 RS4 did the market follow suit. 'They [BMW, Mercedes, Lexus] have followed, but now we will go back.'
Why the supercharged V6? 'We want a high torque figure at low rpm,' our engineering mole said. But there won't be an additional turbo or two blowers, as either set-up would be too complex and not worth the extra gain.
Don't worry though, because our source says the RS4 will be very sporty indeed. And having changed many people's preconceptions with the outgoing RS4 and latest R8, there's a will in Ingolstadt to keep the bar raised high.
[via Car Magazine]