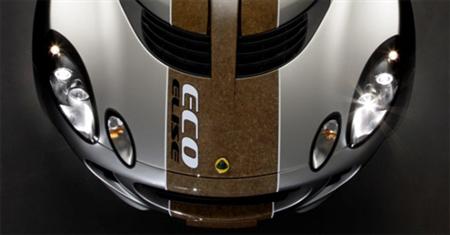 More 'green' news today: Lotus will present a new environmental friendly concept based on it's Elise at the London Motor Show later this month. Lotus took the environmental friendly further than taking down the fuel consumption and carbon emissions alone. The green technologies used in the Eco Lotus Elise include the use of sustainable materials including hemp, eco wool, sisal and water-based paints in the construction of the car.
To take down the fuel economy Lotus made the Eco Elise 32kg lighter than the already super-lightweight Elise S. Furthermore a gear change display system indicates when it's the right time to change gears for a lower emissions and better fuel economy. The sportscar even provides solar panels on its roof that are used to power some of the electronic features. Exact performance figures, and maybe even more important, fuel economy figures haven't been given out yet, but they are expected to rival those of the Lotus Elise S.
Mike Kimberley, CEO of Group Lotus explained to MotorAuthority that this is a great example of the advanced and affordable green technologies Lotus is developing. And that Lotus will keep on developing greener cars now and in the future.
[via MotorAuthority]