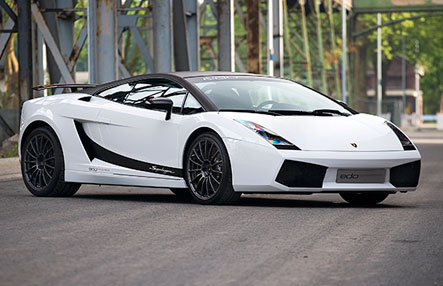 Edo Competition added a second Lamborghini to it's tuning program. After succesfully tuning the LP640, it's now time for the Lamborghini Gallardo Superleggera. Production of this model Gallardo Superleggera ended in March 2008 after 172 Superleggera's left the factory. For all the owners of this lightweight Gallardo, Edo developed a performance kit including a number of optical enhancements.
With a new airbox, sport catalyser and optimized motormanagement the Edo Competition gains 30hp, which brings the total output of the Lamborghini V10 to 560hp at 8.250 RPM. The topspeed increases to 320 km/h and the 0 to 100 sprint takes only 3,7 seconds. For improved comfort the new exhaust has a valve that can opened or closed with a remote control so you can drive it nice and quiet or raw and loud.
Optical you will find 19″ racing wheels, that can be fitted with the tyres from your current Superleggera, and the Edo Gallarod has been lowered a good 15mm for improved handling and grip.