Team 396 with co-driver Coop had bad luck at La Carrera Panamericana. In the middle of the fifth day they were out of the race. Enjoy the great updates from the Positive Ape Index.
La Carrera: All Over, Including The Shouting
Well, you wins some and you loses some.
On the fourth day of racing, after kicking ass at Mil Cumbres, we were in 3rd place overall. By the Servicio in the middle of the fifth day, we were in a mechanico trying desperately to fix a busted valve train, and officially out of the race. Shit.
It's a drag to be sure, but I've had such an amazing time that I really shouldn't complain. I will definitely be back next year.
I'm in a motel in El Paso right now, on my way home. I'll be posting a full day-by-day report on the race, with mucho pictures, as soon as I return to more reliable internetitude. Buenos Noches!
Pictures of Team 396:
La Carrera Panamericana, Day 0: Preclassification
La Carrera Panamericana, Day 1: Veracruz To Veracruz
La Carrera Panamericana, Day 2: Veracruz To Puebla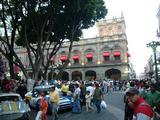 La Carrera Panamericana, Day 3: Puebla To Queretaro
La Carrera Panamericana, Day 4: Queretaro To Morelia