Audi's e-tron GT Concept officially surfaced at the LA Auto Show 2018 this week. The e-tron GT concept is glimpse into what Audi will offer when it eventually gets around to completing development work on a four door saloon EV. It should go head to head with the Tesla Model S and with upcoming models expected from German rivals Porsche, BMW and Mercedes-Benz.
The EV market is hot territory at the moment with manufacturers dumping huge research and development money at pure electric vehicles. Audi recently released its first fully finished model in the form of the Audi e-tron SUV. It's second model is widely expected to be the e-tron Sportback, with the third, to debut in two years, set to be based around the e-tron GT concept. It looks to be cut from the same trim as the Audi A7!
2020 Audi e-tron GT Concept
The e-tron GT is very closely tied to the Porsche Taycan. Both EV's are being developed at the same time and so should provide much the same in terms of specifications.
The e-tron GT uses a uses a 90kWh battery pack that sits in the middle of the car, between the axles. There's a motor front and back with to quattro-style four wheel drive and torque vectoring. Audi have confirmed that the concept gets a power rating of 590 bhp. The figures quoted allow for a 100 km/h sprint time of 3.5 seconds and 200 km/h in 12 seconds. Range is quoted at 400 km with 800 volt charging for 80% charging in just 20 minutes.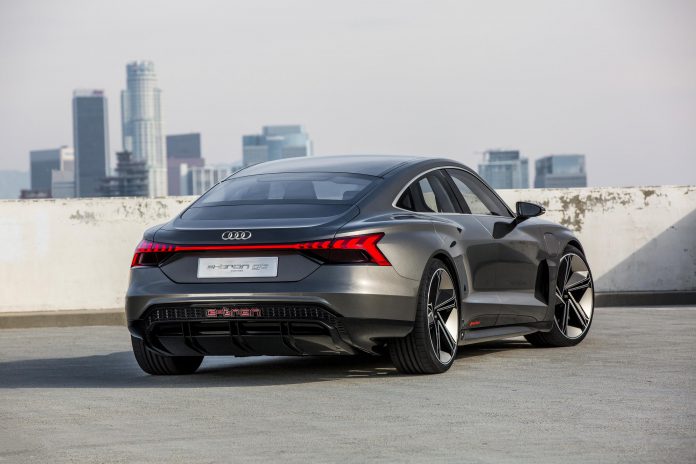 While the e-tron GT gets ceramic brakes, these won't much be needed as most of the low level braking takes place by reversing the polarity of the electric motors. This allows for regeneration on the move and a small amount of added range depending on conditions.
As mentioned above, the design is very similar to that of the A7. Audi have retained the conventional grille with a different design, despite there being no need for air cooling the batteries. The rear taillights span the length of the rear and the front bonnet features a deep cut-out. Despite this, Audi claim a 100 litre front boot capacity and a 450 litre rear boot.
Expect the production version to drop in 2020 with pricing to rival the hottest Tesla Model S!