Incorporating cameras as side mirrors has long been a trick of concept car designers looking to make their design appear futuristic. That might soon be a thing of the past as Audi has revealed its upcoming e-Tron will get this as an optional extra!
Audi's e-Tron is due to debut later this year. In SUV form, it looks to compete with similarly proportioned Jaguar's and with the Tesla Model X. We've already heard quite a bit about it. We know it will have a range of up to 310 miles with 500 hp and 800 Nm of torque. The latest release talks about Audi's work making the e-Tron aerodynamically efficient.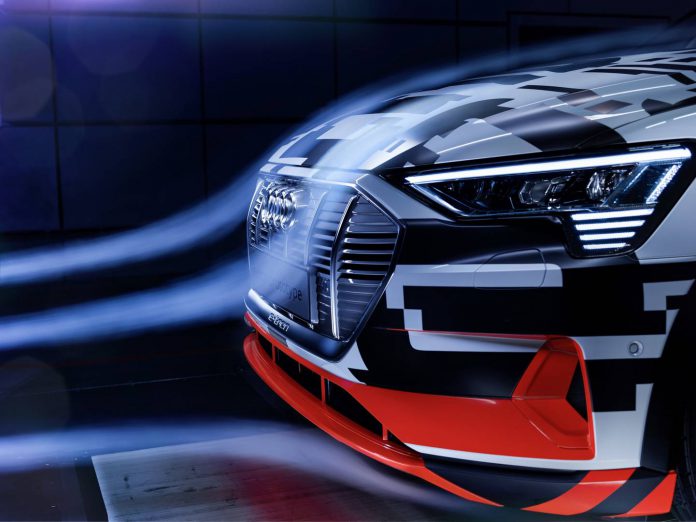 For any car, whether electric or conventional combustion powered, drag makes a huge different in efficiency. The less drag, the farther it travels. The photos show the e-Tron prototype testing on the aeroacoustics test rig in the Wind Tunnel Center in Ingolstadt. It's a place where Audi have carried out approximately 1,000 hours of testing.
The result is a drag coefficient of just 0.28. By comparison, the Tesla Model X (a smaller, MPV style vehicle) reportedly manages 0.24 while the current Audi Q7 manages 0.33. Audi claim that the drag coefficient for the Audi e-tron prototype is almost 0.07 less than for a comparable, conventionally powered vehicle. This equates to an increased range by around 35 kilometers (21.7 mi) per battery charge.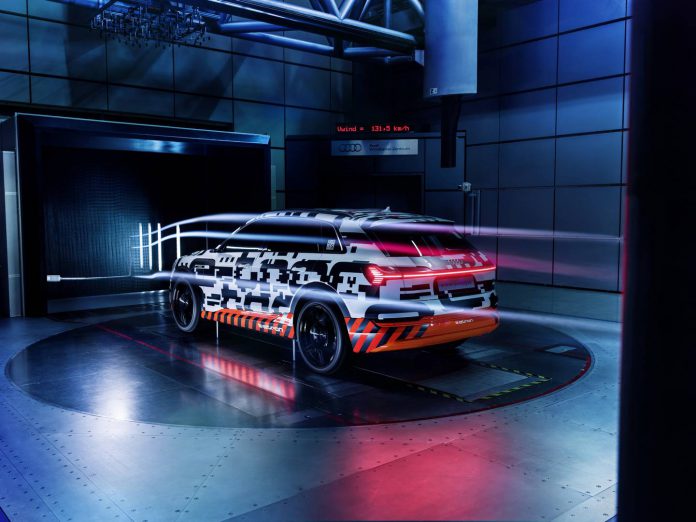 A variety of features help to achieve this. These include the virtual exterior mirrors and dimples on the underbody. The mirrors will be a first on a volume-production model. They reduce vehicle width by 15 centimetres and reduce drag and wind noise. The image is displayed on OLED displays between the instrument panel and the door.
Other technical highlights include standard adaptive air suspension. At speeds above 120 km/h (74.6 mph), the body is lowered by to 26 millimeters (1.0 in). The flat underbelly allows efficient air flow while a cool-air inlet behind the grille helps lower drag.
We can't wait to see the finished product!