On the 8th June 2018 Porsche celebrates the 70th anniversary of their very first operating license. The 356-001 was the first Porsche prototype to be officially registered and street legal. To celebrate 70 years of the Porsche sportscar, Porsche is running several exhibitions around the globe this year. One of them is in the heart of Germany's capital Berlin, the DRIVE: Volkswagen Group Forum.
Porsche is celebrating this by displaying a selection of their milestones. Right after the entrance you will see a beautiful recreation of the 356-001. One of the oldest cars displayed is the legendary '71 "Dicke Berta", which is a one-off modified combination of the short- and longtail Porsche 917 that ran at the 24 hours of Le Mans. It got this nickname from its pink livery, showing meat parts. One of the most underrated but for Porsche important cars is the Boxster concept car. Back in the 90s, the Boxster brought Porsche back into a successful company. Of course, Porsche also displays their interpretation of what the automotive near future will look like by presenting the Mission E, which will be the first electric Porsche production car starting in 2019.
The exhibition in Berlin stays until the end of May, if you're around, check it out!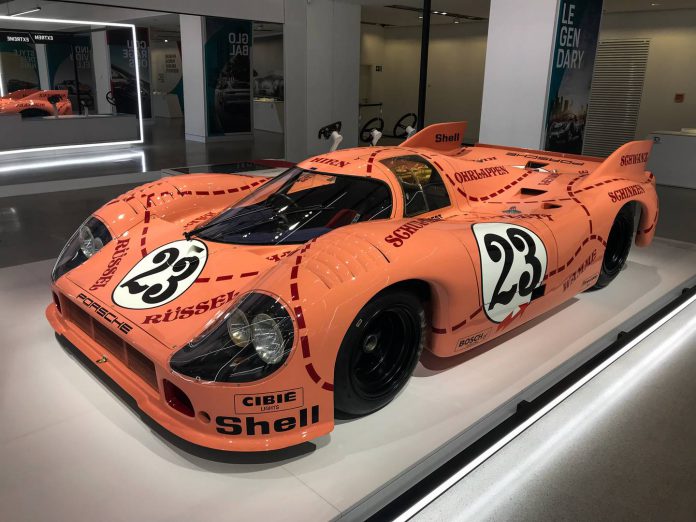 The Porsche 9:11 Magazine is a video magazine from Porsche and to quote Dr. Josef Arweck, Vice President Communications at Porsche, they couldn't find the correct video format, so they've build their own. The videos are 9 minutes and 11 seconds each and show perfectly, how different but equal the Porsche enthusiast is. We attended the presentation of the sixth episode and had the chance to listen and talk to the protagonists of the first episodes. As Porsche fan, you should head over to http://911-magazine.porsche.com and take a look at the episodes.
Words by Norbert Arndt