Nissan's upscale daughter Infiniti has come up with a few cars with a certain cult factor in its near-30-year history, yet it hasn't managed to catch up with the competition. Infiniti often offered slightly sportier and more individualist alternatives to the German, Japanese or American competition, but sales have generally remained disappointing. The brand hopes the new QX50 crossover will change that once and for all – and give the brand a massive boost.
The QX50 replaces a very different model: Its predecessor, launched as the EX in 2007, was a variation of the Nissan Skyline/Infiniti G and built on a rear-wheel drive platform; it came with six-cylinder engines only. By contrast, the new QX50 is based on a fresh front-wheel drive platform and launches exclusively with a four-cylinder turbo.
2018 Infiniti QX50 First Drive
And this 2,0-liter engine, called VC-Turbo, is surprisingly innovative: It is the world's first production-grade engine with a variable compression ratio and variable displacement. It produces 272 hp at 5600 rpm and generates maximum torque of 380 Nm on a plateau that stretches from 1600 to 4800 rpm. Thus equipped, the QX50 charges to 100 kph in about 6.5 seconds; top speed is 230 kph. Consumption figures for Europe have not yet been determined, but Infiniti claim it is on the level of a diesel engine – and that, in real life, is probably better than a hybrid.
Behind the wheel, this unique, low-vibration engine is completely convincing. It reacts to trottle input spontaneously, acceleration is impressive, and it pleases with a muted but somewhat sharp engine sound that can turn into an aggressive snarl.
Less convincing is the obligatory CVT box. Under sharp driving, respenses are somewhat delayed, and in the upper rev range, it jumps in a somewhat hectic manner between the simulated gear ratios. Under normal driving, however, the box works perfectly.
The suspension isn't excessively sporty. The limits of adhesion are surprisingly high, but they announce themselves relatively early through noticeable though not excessive body roll. We drove the all-wheel drive version with 255 tires on 20-inch wheels; the combination works well on this SUV. The optional by-wire power steering system is highly innovative and pleasantly tuned, with a clearly noticeable spread between the different modes. And it works well with the semi-autonomous driving functions summarized here under the Pro Pilot moniker.
The interior features modern styling and very comfortable seats, which we wish would provide a bit more lateral support. The optional, top-level interior is characterised by cream and brown leather with blue ultrasuede accents; it looks extremely high quality. Contrast is providef by open-pore wood strips.
We have no complaints about the instrumentation and head-up display, but the old-fashioned infotainment system leaves a lot to be desired. Infiniti promises relief soon, hopefully the next-gen system will already be included when the new model launched in Europe in 2019. Inside, space is generous; the interior is unusually wide, adults are comfortable even in the back, and the trunk is cavernous.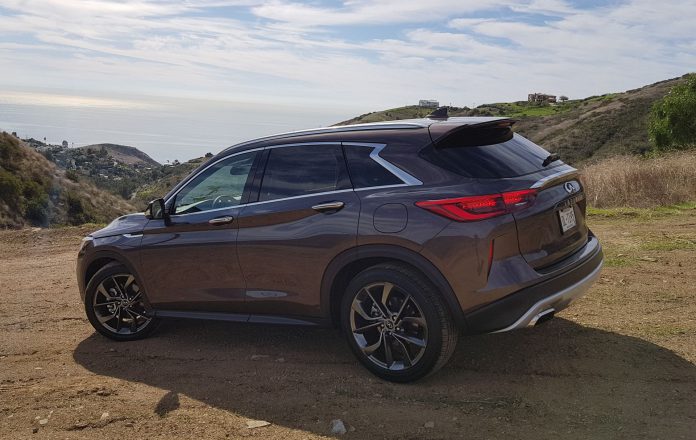 The QX50, styled before the arrival of design chief Karim Habib, looks unique and sporty, with a sharply contoured hood and a large grille flanked by narrow LED headlights. The C-pillar presents itself with the typical counter-swing. It's an SUV that won't be confused with anything else.
Highly competitive and fitted with unexpected high-tech features like the VC-Turbo engine and the by-wire steering, the Infiniti QX50 will be a strong alternative in a highly competitive segment – as long as you are not looking for an alternative to an AMG. For performance-oriented drivers, it is possible that Infiniti will add a V6 turbo with a dual-clutch transmission in 2020 or 2021. Prices for the entry-level model are expected to start at around 40,000 euros when the QX50 launches in Europe next year.