When Lexus introduced the LF-LC concept at the North American International Auto Show in 2012, the crowd of jaded journalists was left speechless. This new luxury coupe concept from Lexus was literally a showstopper. Lexus got the message. The final production version was unveiled at Detroit a few years later in 2016. Thankfully, in it's journey from concept car to reality, Lexus didn't change much. The beautiful body is much the same and the interior is very similar as well. It is beautiful. The Candace Swanpoele of automobiles. Drop-dead gorgeous. An automotive fantasy captured in candy-coated sheetmetal and offered to the world. Lexus thankfully understood that if wouldn't suffice to stick something this beautiful with a garden variety V6 or turbo-four. Nothing less than a 5.0L 32-valve V8 resided under the long sculpted hood driving the rear wheels through a new 10-speed semi-automatic transmission.
I can tell you that it's a real thrill to see this car in the flesh, out loose in the world amongst us, with actual sunlight highlighting its sculpted flanks. Lexus did a superb job on this car, from start to finish and we've been incredibly eager to drive it and see what it's like. Our daydreams about this car over the last few years have set the bar high and we wondered just how accurate they were.
Our test car was delivered in a color called "Infrared" and it was an absolutely beautiful shade of red…deep, rich, and so luscious you wanted to taste it. It brought the various design details of the body out and helped highlight the intricacies of it. The interior was black leather stitched into wonderfully creative shapes and designs. Our car came with the Lexus Safety System, which features All-Speed Dynamic Radar Cruise Control, Lane-Keep and Lane Departure Alert, High-beam Headlights that shut off when they sense oncoming traffic after dark, and Lexus Pre-Collision system that pre-tensions seat belts and adjusts headrests in preparation of a collision if it senses a collision is imminent. It also came with the Touring Package, which included 20" aluminum wheels, an Alcantara headliner, Mark Levinson Surround Sound audio system, and what Lexus refers to as a "Semi-Aniline Perforated Leather-Trimmed Interior." Finally, it also came with a color heads-up display and a larger 10.3" nav screen. All of which raised the price from $92,000 to $94,690.
The shape of the exterior is hands down the nicest design ever put forth by Lexus. In fact, I'd argue that it's one of the nicest looking automobiles ever designed by anyone ever. The proportions and balance are nearly perfect. Lexus controversial grille design has never worked better than on this car. Character lines flow harmoniously from the grille to the tail of the car, tying everything together with a sense of purpose and intent that no previous Lexus design has ever had. The car is just dead sexy. It's a balanced blend of feminine curves and masculine edges that appeals to everyone, as evidenced by the compliments we received from both men and women while we drove it. Details abound: integrated hidden door handles that pop out from the body as you approach then retract once you're inside; taillights with a near-holographic display that give the appearance of great depth; headlights that remind you of anime spaceships.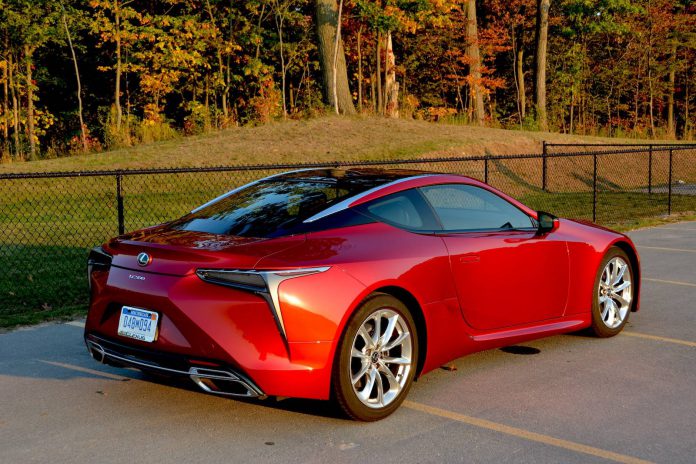 The interior is a mix of futuristic concept car dreaming and Lexus own current interior design ideas. The design is very swoopy and flowing, bringing some of the exterior design excitement inside. The interior door releases are works of art, calling to mind 1930's art-deco. The front seats are beautiful and very comfortable, both ventilated and heated, with excellent bolstering. The rear seats are lovely to look at, but there is almost zero legroom for passengers, relegating them to attractive package shelves. We couldn't even get children in them without crushing their legs, but they were as taken by the car as we were and happily sat cross-legged in the back, delighted to be able to ride in it. The dash is well-laid out, with driving mode and traction control knobs on either side of the gauge display. A large 10.3" nav screen inhabited the upper center console stack. While we're familiar with other Lexus controls, these left us a bit confused by their layout. They were different from most Lexus controls and required some figuring out before use. The Lexus "mouse" control for the control screen is gone. A new touch pad takes it's place, saving room in the center console. It works the same way but feels a little more present-day. The climate controls were push-button oriented and we found them a little easier to use than the touchpad and screen.
The transmission shifter was terribly confusing to use. Instead of the universal PRINDL design, Lexus has a readout on the gauges that you must pay strict attention to. You start in "Park", which is displayed in the center of the readout. From there, you're directed to move the shifter left until "Neutral" lights up. From Neutral, you can move the shifter upwards into "Reverse" or down into "Drive." If you want to use the manual paddle shifters, you have to shift downward into "Drive" then release the shifter and then shift downwards again. This activates manual shift mode and the paddle shifters. Confusing? Yes. Do you get used to it? After awhile, but you never stop wondering why it has to be so complex. Simple is always better.
Climb into the beautiful, well-bolstered seats, fasten your seatbelt, and reach out and push that big red Start button and…the 32-valve 5.0L V8 starts with a loud growl that slowly settles into a quiet purr. It''s a delight. Stab the throttle and the engine is happy to bark a bit before settling down into a quiet idle. Fidget with the fussy transmission shifter to get the car moving and it just purrs right along with the occasional snarl for effect. The engine makes 471 hp and nearly 400 lb-ft of torque. It easily moves the car around and provides excellent acceleration and passing ability. Lexus claims it'll go from a standstill to 60mph in 4.4 seconds and we believe them. This car is quick. No matter what speed you're traveling, it seems like there's always plenty of power in reserve. The engine is quiet most of the time, but when you get on it, it makes glorious V8 sounds to go with the ferocious acceleration and it's addictive. Lexus also claims it'll top out at 168 mph and we believe them there too, though we never got close to that number.
The 10-speed transmission does an excellent job of finding the right gear to be in at all times. It shifts seamlessly in the background, trying to anticipate your every whim while seeking the best fuel economy numbers and balancing performance. It should average 16 mpg in the city and 26 mpg on the highway, for a rough average of 19-20 mpg combined. That's about what we saw. You can also select the semi-automatic transmission mode that allows you to click those gorgeous magnesium paddle shifters lurking behind the steering wheel. They seem a bit more responsive than most of the Lexus cars we've driven lately but unfortunately, with 10 gears, you can easily get frustrated trying to quickly switch down 5 gears to get blinding acceleration. After awhile, we found ourselves letting the automatic mode do our shifting for us as we grew tired of of shifting through all those gears trying to find the right one.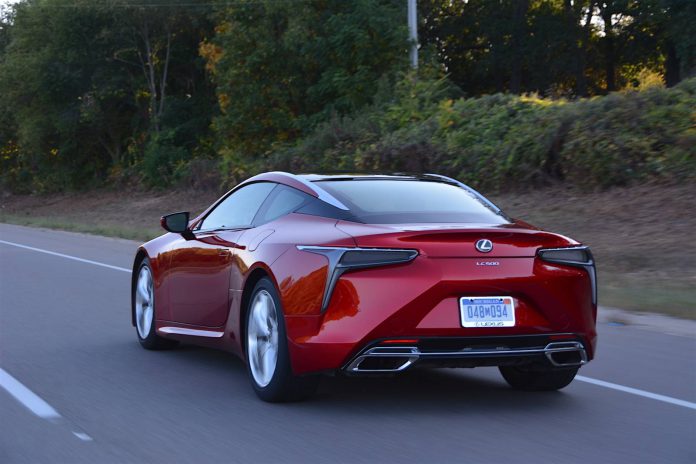 The ride is excellent. The semi-active shocks, springs, and anti-sway bars do a fantastic job of keeping the ride composed, controlled, and comfortable for the driver and passengers. The suspension and tire noise were very quiet – much quieter than other Lexus cars we've tested lately. The car handled curves with confidence and agility, sticking very nicely and tracking through the curve without needing corrective steering input. We found the car did very well with nearly any test we threw at it, but through some tight hairpin corners the front would lose traction and plow rather severely until it lost enough speed for the front tires to recapture their traction. Most drivers will never push the car this hard, but with a few alignment changes or stickier tires, the understeer could probably be eliminated.
With as much speed as the LC500 makes, you'll be pleased to know that the brakes are more than up to the task of stopping it. The front has 6-piston calipers and 2-piece 15.7" discs, while the rear has 4-piston calipers and single-piece 14.1" discs. Despite our best efforts we couldn't get them to fade. They're tucked inside of the aluminum 20" wheels with run-flat high-performance summer tires.
However, as capable as it is, it's the design that wins people over. Everyone comments on it, everyone wants to check it out. We actually had people hanging out of car alongside us on the freeway, taking pictures with their iPads and fist-pumping the air. And they weren't the only ones pulling up close to us on the freeway for a better look. It gets noticed. My wife has never appreciated Lexus vehicles until she rode in the LC500. Her first comment after getting out of the car was "I'm Lexus people now," and she fully meant it. With that kind of reaction, I believe Lexus may attract a lot of new customers with the LC 500.
The LC500 is nothing short of a home run for Lexus. No other Lexus has gotten people's attention like this one. It's has fantastic looks, an extremely comfortable interior, a massively capable engine that makes delightful sounds, and a high degree of performance to back up the sporty looks. The LC500 is a car that inspires people to dream about owning one someday. We expect it will be a classic someday.