Expectations. They play a huge role in our perception and judgement. Sometimes for the better and sometimes for the worse. Take the Lexus GS, for instance. A few months ago, Lexus was kind enough to loan us a GS 350 F-Sport. We had high hopes for it but we came away slightly underwhelmed. It was a good car but it didn't meet our, uh, expectations. It was quick, yes, and it handled really well once you selected the "F-Sport" suspension setting, but otherwise it felt like a car with an identity crisis. "Eco" was it's primary engine setting instead of "Sport" and it was soft until you turned all the performance settings on.
Lexus then offered us some seat time in their GS 200t. The GS 200t is a performance step down from the 350 F-Sport so we really weren't expecting much from it. It's powered by a small turbo 2.0L four-cylinder engine that makes 240 hp instead of the 350 F-Sport's 311hp and it lacks it's sport suspension too. And perhaps it was our low expectations that led us to be surprised by this lowly GS and actually find it to be a really good car.
Right away, we preferred the looks of the 200t. Instead of the overly busy black mesh grille of the GS 350, the 200t has more traditional looking styling across the grill and the car looks more refined and sophisticated. It tones down the fussiness of the GS 350's large grill and balances the design of the car better. The deep metallic granite color reinforces the refinement concept and compliments the body lines very well.
The inside is identical to the GS 350 F-Sport but instead of the carp skin "sport" decor, Lexus uses rich wood veneer and stitched dark grey leather which is again a more refined and appropriate choice for a luxury car. Somehow, these small changes make a world of difference in one's perception of the interior. Though it still feels a little dated, it also feels like a much higher-end car than the GS 350 F-Sport. It's softer but somehow preferable.
But it's the engine that surprises us the most. Perhaps it's the rush of the turbo, but the engine feels stronger than the naturally-aspirated V6 in the GS 350. It's not, of course. Rated at a mere 240 hp and 258 lb-ft of torque it's down by 51 horsepower and 25 lb-ft of torque to the GS 350, but plant your foot and after the tach passes 2200 rpm or so, the torque rush from the turbo launches the car up the road like a pebble leaving a slingshot and a deep rumble emanates like a monster from under the car, giving the illusion of a large displacement V8. It's probably just a resonator in the exhaust but that added rumble with the torque rush really gives the illusion that it's a stronger engine than what it is. We had to open the hood to make sure it really was a turbo-four. It's a very nice engine.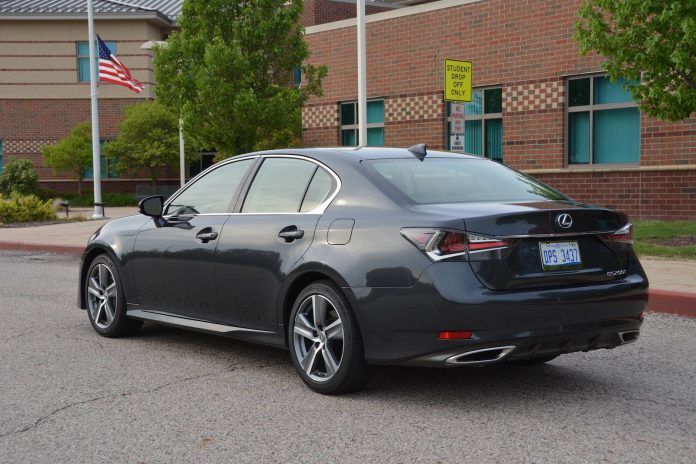 Unlike the 350 F-Sport, we couldn't adjust the suspension electronically to a more performance-oriented setting but it did all right. The soft base suspension does a decent job of cornering and handling. Around town it provides a comfortable ride, soaking up bumps and bad pavement with aplomb. It turns sharply and precisely with well-balanced steering. This engine matched with the much sportier F-Sport suspension would make a great combination.
The seats are soft and comfortable but much less bolstered and supportive than the GS 350 F. You find you have to brace yourself if you push it through corners too hard but the extra softness makes it worthwhile. Controls are mostly where you expect to find them. It has heated and ventilated seats and a heated steering wheel for winter driving. It also comes with the current crop of lane-assist, collision avoidance, and automatic cruise control features that many of it's competitors offer as well. Like the GS 350 we drove, the infotainment screen is controlled by Lexus' unusual mouse controller system. It takes a little getting used to but works well and is intuitive to use. The back seats are comfortable as well, with adequate leg room. The trunk is large and has a pass through to the rear seat.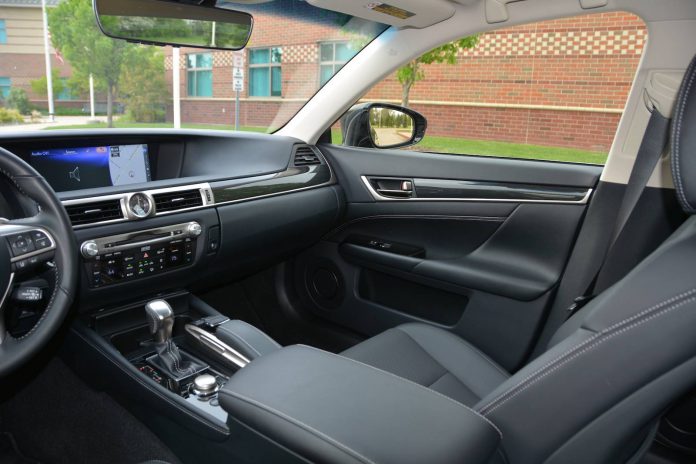 The car had a few faults however. First, the noise from tires and suspension while driving was louder than I'd expect in a "premium" car. You would expect that for the price of the GS 200t, you'd get a quieter ride. The second fault was that some of the controls were actually counter-intuitive or different from what the industry standard is. They're things you'd get used to if you owned one, but your first experience ends up making you wonder why they did it so differently for no seeming advantage.
The GS 200t is what's known in the US as an "old man's car." Soft and comfortable, loaded with features, with a powerful engine. We really weren't expecting to like the GS 200t much, but we did. It has a comfortable and refined feel. We stated in our review of the GS 350 F-Sport that it felt like a luxury car masquerading as a sports car. The GS 200t feels like a luxury car that's not trying to be something else. It's focused on being a good luxury car and on that count it succeeds.