The BMW Concept Z4 is a barely disguised hint at the series production model, which will launch next summer. It is part of a cooperation with Toyota; Toyota's derivative will be the next Supra, while BMW gets a new Z4.
We love it for several reasons:
– It is a sign that roadsters and convertibles have a future. The segment has recently been shrinking, and the Mercedes-Benz SLC (née SLK) will get no successor. But BMW is sticking to the segment – good.
– It ushers in a great new styling language for BMW – inside and outside. The slightly chiseled and angular look underscores the subtle aggressiveness that has been missing from BMWs for more than a few years. And the interior is a major step forward. (It doesn't come too soon.)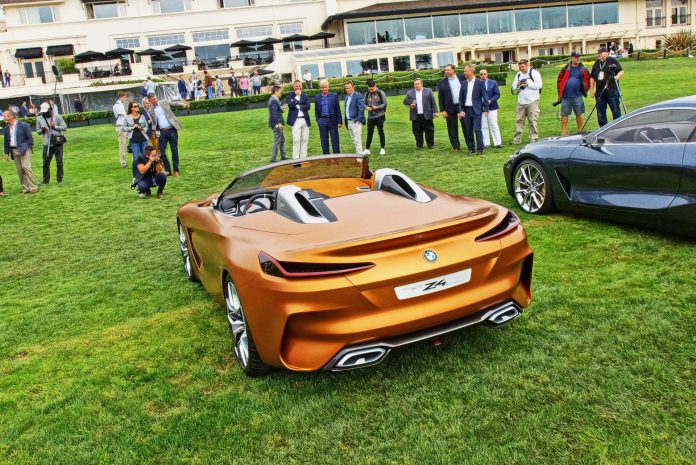 – The proportions are perfect. The Z4 still looks like a rear-driver, but the cartoonish proportions of the predecessors have changed, with the cabin noticeably moving forward.
– It will have a rear-whel drive powertrain with a straight-six range-topper and a manual transmission option for every model.
– It's not a hybrid and not an electric. Seems that BMW has listened to what customers want in this segment: A pure and beautiful driving machine.
It's so important that BMW has chosen the prestigious Pebble Beach Concours d'Elegance for its unveiling. And we can't wait to get behind the wheel.
Photos: Matthias Knoedler