When Porsche released the latest version of the 911 with a turbocharged engine, the world almost stopped spinning. The engine was slammed for sounding weak and the increase in torque removing some of the soul of it's naturally aspirated predecessor.
Arriving at the launch of the new 911 GTS and speaking to some of Porsche's finest engineers, I was happy to find out that the sound was an area of focus.
With a 30 horsepower bump in power it's difficult to notice the improvement over a standard Carrera S. Where you do feel an improvement in the engine is with an increase in torque and when you combine that with a incredible Porsche Double Clutch gearbox there is almost no sense of turbo lag.
Porsche 911 Targa 4 and Carrera GTS
As with most modern turbo's these days, there is a satisfying crackle when you take your foot off the throttle that can be heard inside and outside.
Having spent the first evening with the head of engine development for the new 911s, it was hugely satisfying to know that they spend a lot of time reading forums, car magazines and online reviews about their cars. They genuinely take this stuff to heart and are matched only by Ferrari when it comes to passion within the company.
It is clear as day to me that they took the feedback of engine sound to heart and made some tweaks to GTS models.
The engines rev to 7,500 and up there it would be difficult for your regular driver to tell the difference between this and a GT3, it really does sound that good.
On day two of our test we were taken to the Killarney Race Track in Cape Town. A technical track with bumps and high speed corners.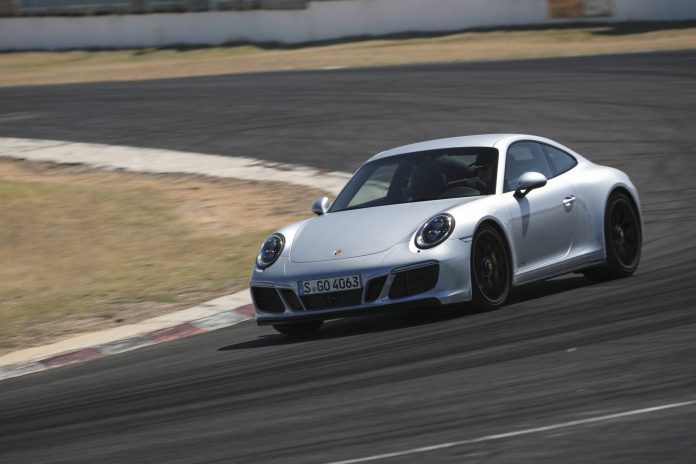 Combined with the new GTS we were also testing a new Pirelli P-Zero tyre that was nothing short of a revelation. After 10 laps there was no sign of the tread overheating and the car just got better and better.
Much of this performance can also be attributed to the improvements made to the chassis in the 911 4 GTS. Now with the option of 4 wheel steering we are entering a new world when it comes to road car handling.
Where you feel the biggest difference with the 4WS is when you're at the apex of a tight corner. Just when you think that the car is going to understeer and push wide you and feel the whole car tuck in further which invites you to get on the power harder and sooner than you'd naturally do without this feature.
On track, kitted with a the PDK gearbox you'll never find yourself pulling on the downshift paddle repeatedly, begging for it to respond. In sport mode the gearbox is super responsive, especially under braking where the down changes are instant and well timed.
High speed stability is good but there were some moments mid-corner where it was slightly unpredictable as it moved around a bit too much under me. It was in these moments where you can really tell where the engine sits in the chassis, acting as a pendulum, giving you the sense that the rear end is excited to lead the way instead.
Another criticism is the feel of the brake pedal. The brakes themselves never faded and the car stops on a dime but I would have liked more feedback on the pedal when I initially got on the brakes.
That being said, the way the new 911 GTS feels, behaves and sounds is a success. I drove the targa, cabriolet, rear wheel and 4 wheel drive models and all of them were great. The cabriolet was definitely the softest of the bunch with a touch too much understeer but will serve its customer base well.
Last word goes to the new touch interface which has been over thought and took too long to learn. I'm a big believer that knobs and buttons are a better solution because you don't need to take your eye off the road (and to be honest, some insiders at Porsche that I spoke to tend to agree).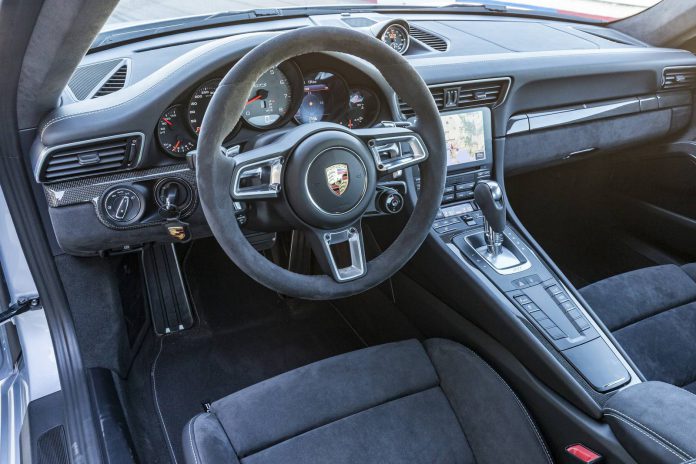 If you are going to create a touch interface you need to be sure that you're not hiding too much control in sub menu's. I spent way too much of my time trying to switch between FM radio, Media and Navigation. Yes the Apple Car integration is good but even that interface has a long way to go. Overall this was the most disappointing element of the car but luckily everything else more than made up for it.
I want one. A Carrera 4 GTS In Miami Blue please.