During one of our last roadtrips with the Mercedes Benz C63S AMG Cabriolet we enjoyed the beautiful Swiss landscapes. The first day we drove from Stuttgart to the heart of Switzerland where we enjoyed a luxurious stay in The Palace Luzern hotel. The hotel, which is over a 100 years old has been one of the legendary landmarks of scenic Switzerland. It was the perfect place for us to relax after a day of driving and enjoying the beautiful landscapes.
The six floors of the PALACE LUZERN hold 129 rooms and suites. We got offered a Deluxe Junior Suite on the second floor with a huge terrace and a breathtaking view over Lake Lucerne and the Central Swiss Alps.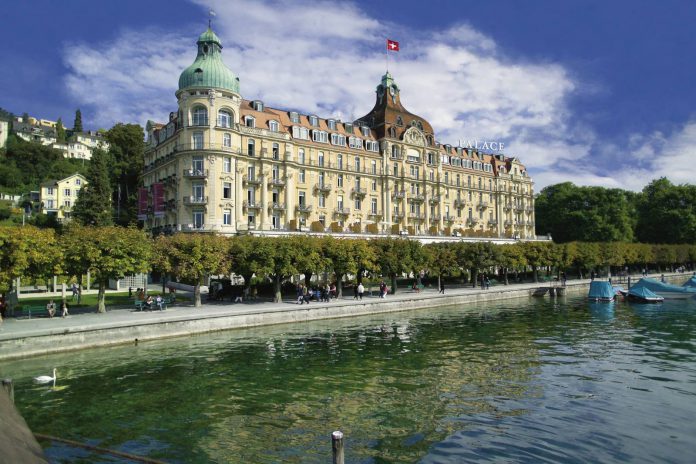 Location
Palace Luzern is one of Switzerland's legendary luxury hotels and is located on the scenic shores of Lake Lucerne in the very heart of the country, surrounded by idyllic Alpine landscape. In 2005 the hotel embraced a completely new accommodation concept which involved reducing the number of rooms and suites from 168 to 129. With an additional investment of 7 million Swiss Francs 42 rooms have been redesigned and modernized to embrace an even more luxurious feel and offer the guests more room for rest and relaxation. Directly upon arrival we noticed the unique lamps hanging in the hotel. We were later told these are handcrafted in bronze and then silver-plated by a master lamp maker in France. It gives the hotel a really unique and luxurious vibe.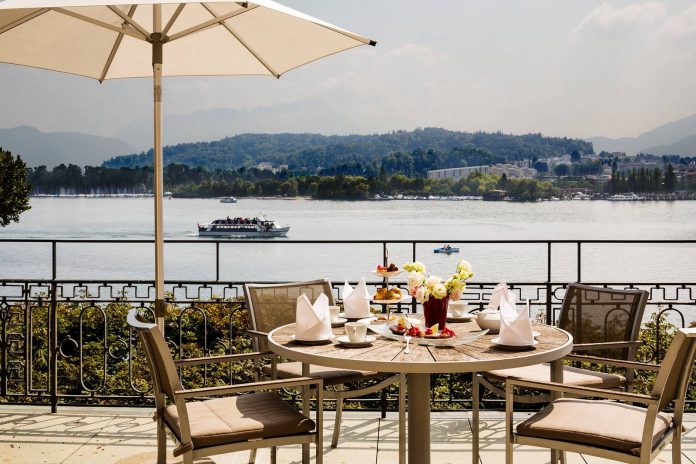 Rooms
The six floors of the PALACE LUZERN comprise 129 rooms and suites – 64 spacious single and double rooms (up to 30 square metres), 59 Junior Suites and Deluxe Junior Suites (40-50 square metres), four Corner Suites (52 square metres), the Palace Suite (80-110 square metres) and the exclusive Suite of Arts (105 square metres). The rooms and suites are either classical or contemporary in style. All are equipped with modern facilities such as Wireless LAN, ISDN telephone and Voice Mail. Many rooms have their own terrace or balcony, with fine views extending over Lake Lucerne to the city and the Central Swiss Alps. We were given a Deluxe Junior Suite on the first floor with a big terrace where we enjoyed the breathtaking views of Lake Lucerne.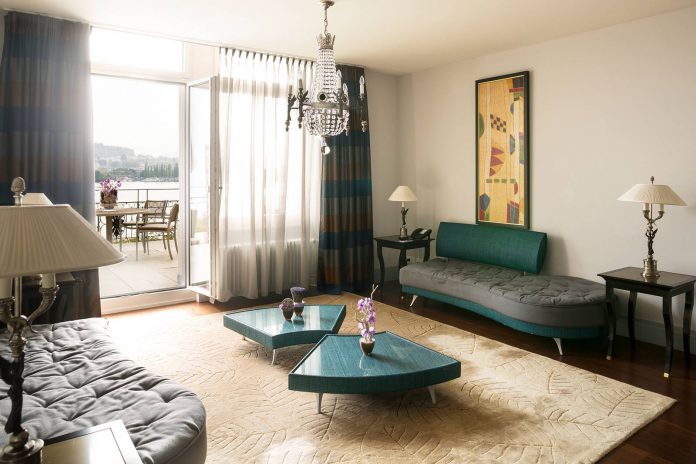 The Junior Suite offered us the perfect space to hang out and relax a little. Upon entering the room there was a hallway with plenty of space for us to store our luggage. Furthermore we had a big living room, a king-size bed and a bathroom with a separate shower and bath. The room was furnished in a Belle Époque style and featured a free minibar, air conditioning, and a smart TV.
Sparadise
After relaxing a little on our room we decided to head out to the spa area. This is another exclusive attraction awaiting guests since the new concept was introduced in 2005. The PALACE SPA extends over two floors and 800 square metres. It comprises of attractive treatment rooms; two separate Spa zones (for men and women) each with a sauna, steam room, aroma shower, ice fountain, rest area and changing facilities; and a 40 square-metre fitness room. A unique feature the hotels offers is a 72 square metre Private Spa for two, a facility of exclusive elegance which enjoys a privileged location in the fourth floor tower. Outstanding features here include a petal pool, treatment tables and easy chairs, a sauna and steam room – and fine views extending over Lake Lucerne to the distant Alps. During our stay we enjoyed a relaxing sauna and steam room session followed by a drink in the rest area.
Cuisine
Fine fish cuisine can be enjoyed in the Marlin restaurant of the hotel. The restaurant opened in May 2015 as Lucerne's only fish restaurant. Executive Chef Armin Egli specializes in a fresh cuisine that runs the gamut of his passion for fish and seafood from local and international waters. In nice weather, you can dine on the large terrace located right on the lakeshore promenade.
In the Palace Bar & Living Room, traditional afternoon tea and a selection of snacks and sweet dishes from the in-house pastry shop are offered. A Sunday brunch is also available.
In the morning we enjoyed an excellent buffet breakfast. With a nice variety of foods we had plenty to choose from. A nice cup of coffee ensured a perfect morning start.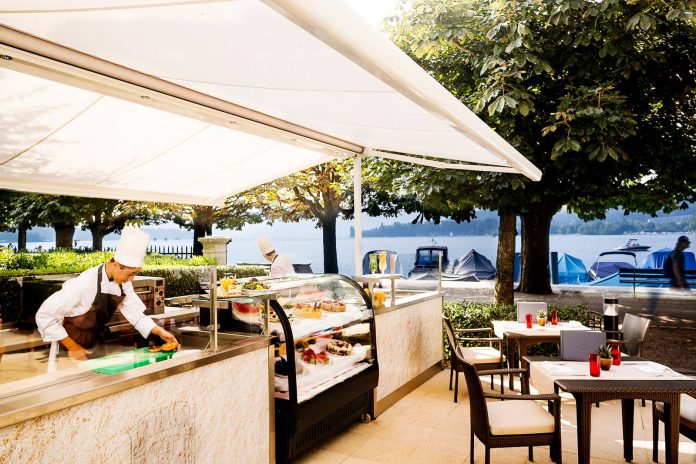 Services
The service throughout our stay was truly exceptional. Our car was safely parked in the parking garage of the hotel by the valet parking. Directly upon arrival we got offered a very nice local beverage and after our luggage was transported to our room, we were guided by one of the friendly staff members. We even got an exclusive tour through the hotel where we got to check out the exclusive Suite of Arts and the Private Spa area.
Conclusion
Overall we had a lovely stay at Palace Luzern. The excellent service, the amazing spa and breathtaking views upon Lake Lucerne made this the perfect stay. The rooms are spacious and well equipped for us to do some work and relax. We would like to thank the staff of Palace Luzern for taking such good care of us during our stay.