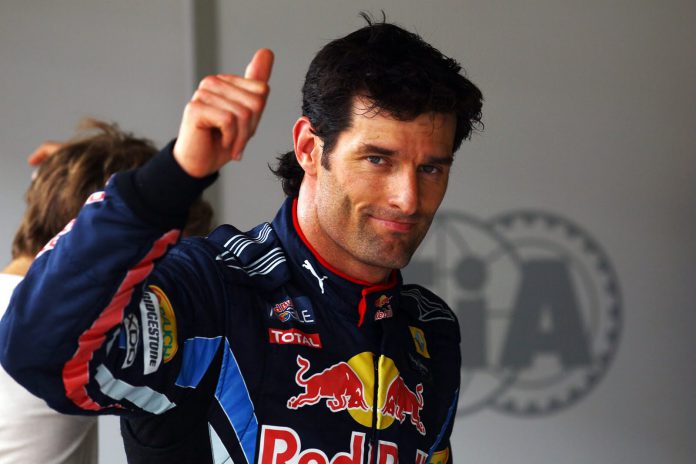 Today, World Endurance Championship Champion, former Formula One front runner and all-round nice guy Mark Webber called time on his racing career. To celebrate his 22-year career in the world of motorsport, we thought we'd share some of our favourite moments.
Webber who is now more aligned with Porsche than ever will take a formal representative role with Porsche Motorsport after the 2016 season. The Grit will represent Porsche at global events and more importantly as a consultant within the Motorsport division as well as the talent research programme. He joins the legendary Walter Rohrl, who has been in the same role for the past few years.
His career spans over two decades, having started with karting in 1991 back in Australia. He would then move to the UK in 1995 after a successful Formula Ford career before advancing to Formula 3, FIA GT and eventually Formula 3000. 2002 marked the start of his F1 career with KL Minardi Asiatech, he then moved to Jaguar Racing for the 2003-04 season followed by BMW WilliamsF1 in 2005. His tenure with Red Bull would see his greatest F1 achievements unfold – starting with two first place finishes in 2009 at the Nurburgring and Sao Paulo respectively. In 2010, he scored more victories in Barcelona, Monaco, Silverstone and Budapest. His last two victories came from Monaco and Silverstone in 2012.
WEC has probably been the highlight of his career; alongside Timo Bernhard and Brendon Hartley, Webber won the 2015 Drivers' World Champion that boasted of four wins at the Nürburgring, Austin, Fuji and Shanghai.
1. Bowing out of Formula One
[youtube]https://www.youtube.com/watch?v=AIoTjs2xemM[/youtube]
Webber bowed out of Formula One at the Brazilian Grand Prix in 2013, finishing second to Sebastian Vettel, and then removing his helmet on the warm down lap.
2. 1999 Le Mans 24hr flips
[youtube]https://www.youtube.com/watch?v=5TSzQoCGmDY[/youtube]
During the 1999 Le Mans 24hr Webber flipped his Mercedes-Benz CLR twice. Once in Qualifying and again during the warm up for the race thanks to an aerodynamic fault on the car. The same fault would cause the sister Mercedes-Benz CLR of Peter Dumbreck to suffer the same fate as Webber five hours into the race.
Peter Dumbreck's accident below.
https://www.youtube.com/watch?v=CxONVf9oVss
3. Qualifying P2 at Sepang in the Jaguar-Cosworth R5
[youtube]https://www.youtube.com/watch?v=omZvBSNWf4k[/youtube]
Webber produced a stunning lap at the 2004 Malaysian Grand Prix in Sepang to qualify second on the grid behind Michael Schumacher with a time of 1:33.715.
4. 2014 WEC São Paulo Crash
[youtube]https://www.youtube.com/watch?v=dbxx8OQrY6w[/youtube]
15 years after his first big sports-car crash, Webber was again involved in a big crash. This time it was at the WEC season ending 6 Hours of São Paulo. Webbers Porsche 919 Hybrid tangled with Matteo Cressoni's Ferrari 458 in the last corner of the lap, resulting in Webber's 919 Hybrid splitting in half!
5. Webber Passing Alonso at Eau Rouge, Spa 2011
[youtube]https://www.youtube.com/watch?v=PNUvBHKciYQ[/youtube]
Webber showed some true Aussie Grit at the Belgium Grand Prix in 2011, passing Fernando Alonso round the outside as they entered Eau Rouge!
6. Valencia 2010 Formula One Crash
[youtube]https://www.youtube.com/watch?v=DFl7wXbLU6w[/youtube]
As you can see, Mark has a history of spectacular crashes! This one comes from the 2010 European Grand Prix in Valencia. After drafting behind Heikki Kovalainen, Webber's car smashes into the back of Kovalainen at the start of the breaking zone, sending him flying into the air before landing and skidding into the crash barrier. Again, thankfully, Mark was unscathed.
7. Star in a Reasonably-Priced Car
[youtube]https://www.youtube.com/watch?v=cx2Suauh9Xw[/youtube]
Whilst with Williams F1 in 2005, Webber answered Jeremy Clarkson's call for a Formula One driver to take on the Suzuki Liana in Top Gears Star in a Reasonably-Priced Car.
8. His Battles with Vettel – Malaysian 2013
[youtube]https://www.youtube.com/watch?v=tKQYlpup_Rc[/youtube]
From 2010 to 2013, teammates Webber and Vettel had several run ins, culminating in Vettel disobeying team orders to pass Mark in Malaysia 2013.
9. Tangling With Vettel in Turkey
[youtube]https://www.youtube.com/watch?v=CE8oMRQAeak[/youtube]
Following on from the last video, here's Webber & Vettel coming together in Turkey 2010.
10. That Poor Cameraman
[youtube]https://www.youtube.com/watch?v=I-ZlQaWk1r4[/youtube]
And for good measure, how could we forget the time a botched pit-stop saw Webber's rear right wheel come off his car leaving the pit-box, rolling down the pit-lane and whipping out a TV Cameraman! Thankful again there were no serious injuries.
Enjoy your retirement Mark, our sport loose a great, but you've earnt it!