With the ever growing need for cleaner and efficient energy, solar power has proven to be more than just a solution. Combined with electrical power, solar energy has a defined future in almost every industry. Duffy London, a design firm specializing in eco-friendly creations sees an opportunity of leveraging solar energy in the yacht scene. Their latest creation is a 44-meter Solaris Global Cruiser – a luxury motor yacht powered by solar energy.
The propulsion is somewhat a hybrid system comprising of six electric motors that draw power from a solar energy system and an alcohol turbine generator that is used to give additional bursts of power and speed.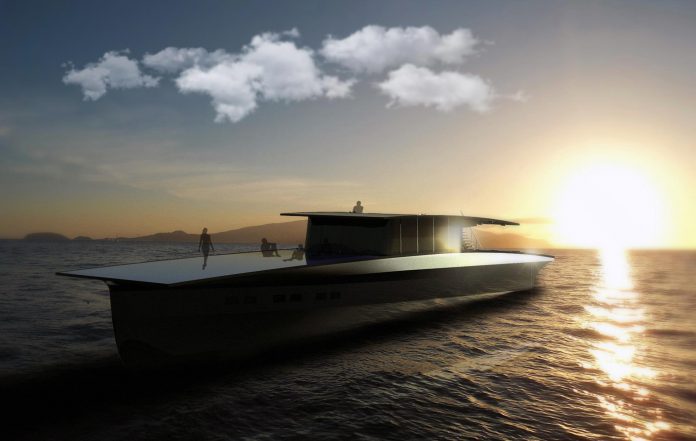 The upper side of the yacht is covered in solar panels which are used to capture solar energy from the sun, a series of battery banks is charged using this energy. The six electric motors are then powered by the battery banks. Charging takes place regardless of whether the Solaris Global Cruiser is cruising or docked. Conventional yachts end up using noisy and exhausted fuel especially after resting for long periods.
Comparing the Solaris Global Cruiser to a modern day sailing yacht, Duffy London says that unlike a sailing yacht where weather patterns and wind direction is crucial, the Solaris does not depend on those variables to dictate its speed. Seamless and silent cruising is an additional benefit of this solar powered motor yacht which can accommodate 10 guests across five cabins, serviced by a crew of seven.
The total power is rated at 5,200 hp allowing Solaris to achieve a maximum speed of 45 knots and a cruising speed of 28 knots. The Solaris Global Cruiser will be launched in 2020 at a price of $32 million.