The second half of the 2016 DTM season kicked off under different conditions, allowing us to witness the masters of a wet and a dry track in Moscow. Race 1 took place yesterday at the Moscow Raceway in Russia, and was foiled by heavy rainfall that forced the race to start behind the safety car. Today's Race 2 was dry, and this time altering the order of things completely.
Mercedes-AMG dominated the wet race yesterday while BMW dominated the dry race today. Robert Wickens won Race 1 in his Mercedes-AMG C63 and immediately moved to the top of the championship standings. Marco Wittmann on the other hand led an all BMW team to dominate today's race by filling the first four positions. Wittmann who had lost the championship lead yesterday has reclaimed it back after today's victory.
Race 1
The race started behind the safety car due to showers on the track, Mercedes-AMG had locked the first two rows with Gary Paffett starting from pole. Paffett was followed closely by Robert Wickens, Paul Di Resta and Maximilian Götz. When the safety car disappeared, Paffett allowed both Wickens and Di Resta to pass him as they are both in a better place on the championship standings. Paffett later acknowledged his move by saying, "Of course, I could think of better things, but I have been around for such a long time and I know the way things work."
Wickens went ahead to win the race away from Di Resta while Paffett settled for third. Gotz on the other hand scored his best DTM finish by crossing the line in fourth, he battled it out in the wet with Audi's Mattias Ekstrom who despite his vast experience didn't quite get the grip around the Mercedes driver. Ekstrom finished in fifth place, leading Maxime Martin in another BMW and the two Audi drivers Jamie Green and Edoardo Mortara.
Race 2
Sunday's race ended with an epic showdown between Audi's Edoardo Mortara and Mercedes' Wickens who raced to the finish line side by side in a fashionable touring car style. Even though they crossed the finish line behind four other cars, their race to the chequered flag was one to remember in Moscow.
For this race, BMW had the upper hand in the dry conditions, and they proved that by filling the first four places like Mercedes did in the first race. That said, Wittmann dominated the entire race and remained unchallenged at all times, behind him was Tom Blomqvist who would eventually finish second but not without fending off a troublesome Wickens.
Bruno Spengler made it a 1-2-3 for BMW today by claiming third, despite facing difficulty with his car in the early laps. The Canadian had little grip but his team had a different strategy for him, instead of boxing him early, they let him stay out for long, a move that worked against Wickens. Spengler passed the Mercedes driver right after his pit stop.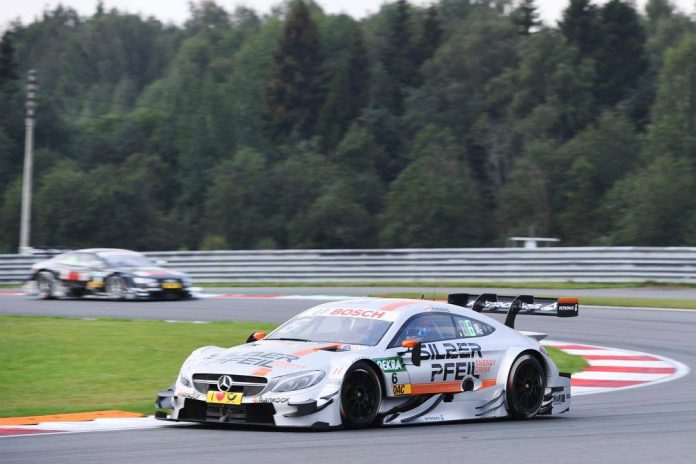 Wickens was on course for a fourth place finish today but he suffered problems with his front right wheel, and later made contact with Martin Tomczyk where he lost his front splitter. At one time, he drove without power steering for two thirds of the race. Wickens later found himself in a battle for points among Daniel Juncadella, Augusto Farfus, Timo Glock, Paul Di Resta, Lucas Auer and Edoardo Mortara.
The battle increased and was the main reason for contact between Di Resta and Timo Glock on lap 37 where both drivers ended up on the gravel trap. Di Resta was then handed a drive-through penalty and a 30s penalty after the race for disobeying track limits.
Mortara who had started from 17th worked his way up the field swiftly, after the crash between Di Resta and Glock, the Audi driver passed Juncadella for sixth and was on his way to claiming P5 but Wickens wouldn't let him. The two drivers crossed the finish line side by side with Mortara in sixth.
Wittmann now leads the championship with 130 points followed by Wickens with 118 points, Jamie Green with 104 points and Edoardo Mortara with 100 points. BMW leads the manufacturer's category with 436 points away from Audi with 390 points and Mercedes with 386 points.
September 9 will take drivers to the Green Hell for the 13th and 14th races of the season.