Meet Lady Genyr, one of CRN's most exquisite yacht within their Navetta range. Launched and delivered in 2013, she is the 8th Navetta hull and purely made of composite material. CRN is part of the Ferretti Group, tasked with building fully custom and semi-custom megayachts. Lady Genyr followed the same fashion of earlier Navetta line yachts; they included hull #01 Emerald Star (2007), hull #02 Hana and hull #03 Rubeccan (2008), hull #4 Sofico (2009), hull #5 Eviva and hull #06 Kate (2010) and hull #07 Lady Trudy (2011).
One of the most special characteristics of Lady Genyr is the presence of an internal lift as requested by the owners, the lift facilitates movements from deck to deck. CRN utilized materials exclusively from Italy to complete the entire project. The exterior design was done by Studio Zuccon International Project while the interior design was covered by CRN's interior team, their engineering team was also responsible for the yacht's naval architect.
CRN Lady Genyr Superyacht Part 1
The 43-meter yacht will accommodate a total of 10 guests across her five cabins which comprise of 1 master suite and 4 VIP cabins. A crew of 9 will be present to facilitate all the needed support during cruises. The master suite has its own terrace set up as a balcony with chairs and coffee tables, allowing the owners to enjoy breakfast or relaxing moments while admiring panoramic views of the ocean.
Fitness addicts will love the gym onboard Lady Genyr, located in the stern area and built to a generous size. It has been fitted with the latest Techno and Kinesis equipment and offers both beach and sea views. The beach club is also large enough allowing members on board to have an ample time enjoying the marvels of the sea in close proximity accompanied by various water activities.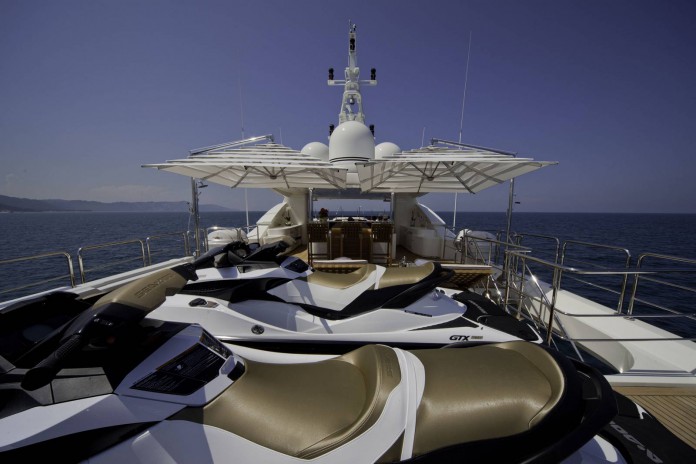 Making work easier for the owners is the "myOlos" technology which technically allows the control of all systems from a finger touch on an iPad. It will control almost each and every system onboard the yacht including audio and video, air conditioning, video-surveillance, light and curtain control and so on.
Powering the yacht is a set of two Caterpillar engines rated at 1,400 hp each and 800 hours of cruise time. The top speed is rated at 15.5 knots, a cruising speed of 13 knots and a range of 3,800 nm while cruising at 11 knots.
Lady Genyr is currently for sale via SuperYachtsMonaco at a price of 14,800,000 Euro or $16.5 million. She's currently lying in Genoa Italy waiting for a new owner.
CRN Lady Genyr Superyacht Part 2