I would be telling mistruths if I said every restaurant review I conducted was not susceptible to being contaminated by the exposure to the surroundings and preconceptions of any given restaurant. Never have such statements been so relevant than at The Peninsula Hotel Paris. On a Friday afternoon I had been invited to visit Le Lobby for lunch – before even reaching the dining room or even entering the hotel I had already starting to build expectations. Why? Seeing a Lamborghini Aventador parked opposite a Gen II Rolls Royce Phantom finished in a deep green with contrasting gold Peninsula branding is always a sign that what lies beyond such majestic walls should be equally impressive. This is no fair test.
Things only got worse as I entered the lobby and almost lost all credibility as a bonafide foodie and amateur restaurant reviewer. The food could have been polished left overs from any fast food chain and the experience still would have been one I would tell my non-existent children.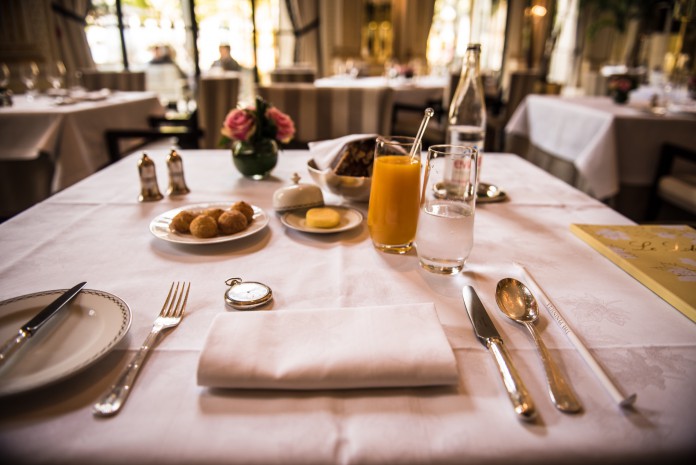 Rubbing my eyes and attempting to snap back to the reality of having to review food was no easy task. It is difficult to compare Le Lobby to much else. The setting was nothing short of palatial, you could be forgiven for thinking you had taken a Parisian wrong turn and ended up in the long room at Versailles. The use of the word palatial just became a lot more relevant, just days after my visit, Peninsula Paris was appointed 'Palace' status as a hotel meaning five stars simply does not do the hotel justice. It is easy to see why.
Still struggling to fathom the majesty of the awe-inspiring gold leaf clad room I was greeted with a smile and menu crisp enough to have just rolled off the press – naturally decorated in gold. There are all the dishes you would expect from Carpaccio and salmon starters to a wide selection of other seafood and meat mains. Additionally there are a handful of options you would not expect. The Hotel is regularly occupied by guests from the Middle East as are many around the most fashionable capitals of the world. Le Lobby has taken inspiration from such clientele and has woven dishes such as Chicken Majboos and more that are titled 'Katara Specials' into its tapestry of a menu – Katara originating from the traditional village in Doha, Qatar.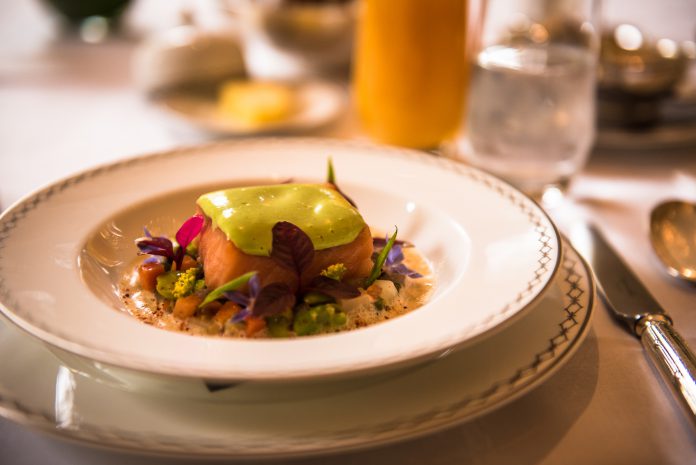 Seeing that I had been seated in such traditionally French surroundings it seemed rude not to opt for something equally as quaint as a starter. Saumon Bio was presented to me and hinted and just how special a dining experience this would be. The organic salmon was cut square and presented beautifully with a diced vegetable salad with herbs and tomato water. The visual drama was further heightened with a few coloured flowers and leafs working with the salmon to not only create one of the prettiest opening dishes I had seen, but also one of the best I had ever tasted. It was clean and fresh but also complex and delicate, the salad tasted wonderful with the tomato water.
A clean plate was sent back to the kitchen and as I awaited the main course the dining room and terrace began to fill. The guests paid testament to the surroundings wearing prints of world famous French fashion houses such as Goyard, Louis Vuitton and Hermes.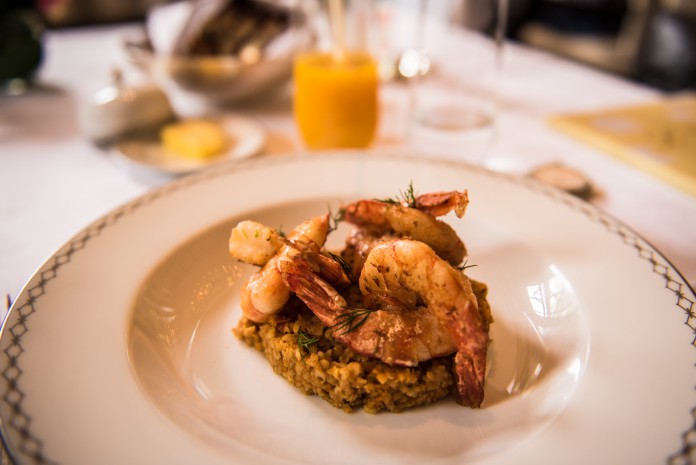 Familiar mood music from Majestic Casual set a calm atmosphere as my main course served. On the recommendation, and being somewhat beguiled by the charm of the waitress that was exclusively serving me, I opted to try one of the aforementioned Katara dishes, the Garish de Gambas to be exact. The presentation of the dish was not as flamboyant as the previous delight, I guess there is only so much that can be done with king prawns served on spelt rice. That being said, the prawns looked mighty, bigger than any I had seen before.
Shells peeled and not a vein in sight, there was nothing else to do than dive in. The Qatari spices literally were an instant hit. There is a punchy combination of flavours that work sensationally well with the tender soft flesh of what are undoubtedly the best cooked prawn to ever grace my pallet. The spelt rice is also flavoured and with the prawns are an absolute marvel for the mouth. As seafood and prawn dishes go, this is unlike anything I have previously experienced.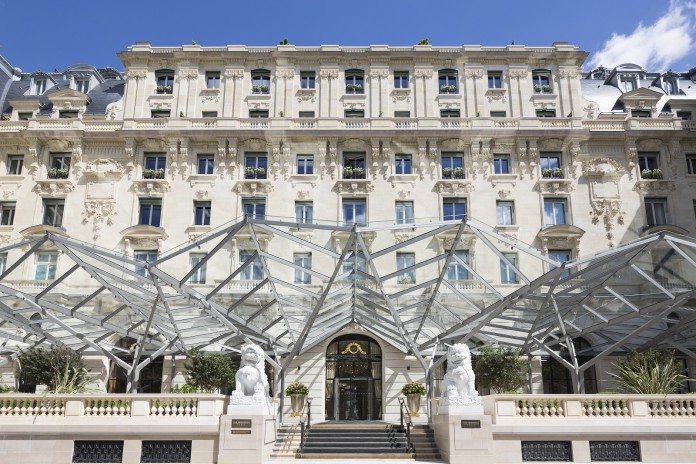 As lunch service reached capacity my sorry looking plate left with nothing but prawn tails rolling around as it was removed and soon replaced with dessert. The hardest part of doing any restaurant review is choosing exactly what to request, I know – first world problems, I would hate me too.
The desert menu is a dream for those who appreciate traditional desserts and a nightmare for anyone trying to trim their waistline. Forever being a sucker for a chocolate dessert the Emotion chocolat seemed an obvious choice. It was also a choice I did not regret. Upon arrival this delight deserved an inspection and survey that I do not recall any other dessert would warrant. The hand crafted spectacle crumbled, parting it showed just how much care and attention went into stacking half a dozen or so layers.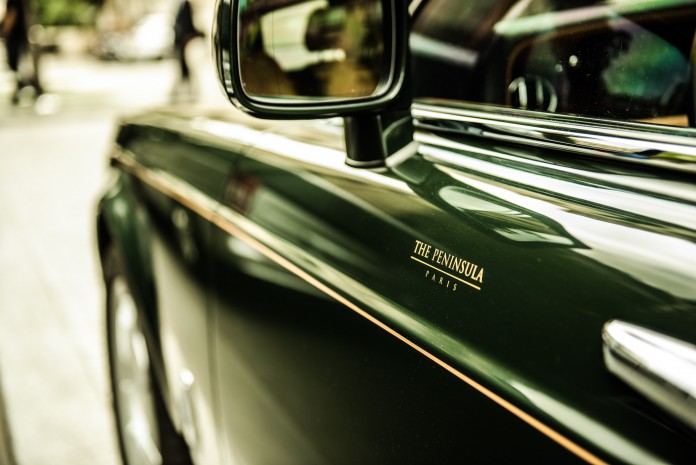 It was almost unfit for consumption and the squiggles of mousse topped with gold resulted in something more awe inspiring than the majority of exhibits at the Louvre just across town. It tasted horrible. No it didn't – it was delicious, incredibly light and airy. Something modern chiefs seem unable to execute is a chocolate dessert that allows the person experiencing it to taste and feel the depth of flavours without overwhelming it with oodles of heavy dark chocolate stodginess that blunts any complexity. I am not sure if it was the layering or just the ingredients used, but as I bit deeper into it there was another texture, flavor and feel. If only every dessert could feature so many dimensions as this.
I have always had an ideal dining experience in my mind, the lunch of dreams dare I say. The food, the setting, the service – Le Lobby took my dream and dashed it replacing it with a meal that I doubt will be bettered. The freshness, quality and portion sizes were all precise and dare I say perfect. If there was one meal I would have to consume for the rest of my days on Earth this may well be it. Bien Joué  Le Lobby, you took expectations and produced the most dazzling menu in the most breath-taking of settings.