We are reporting live from the Nürburgring this weekend bringing you the latest from the FIA WEC and its preparation up until the race that starts at 13:00 EST July 24th. We arrived yesterday and witnessed the second free practice at the end of the afternoon, where it was Porsche's #1 team that drove the fastest lap at 1:40:997, with Audi's #6 team following very closely with their best time being clocked at 1:41:011. Porsche's #2 team was a little less fortunate yesterday as it ended up in the sands at one point during the training.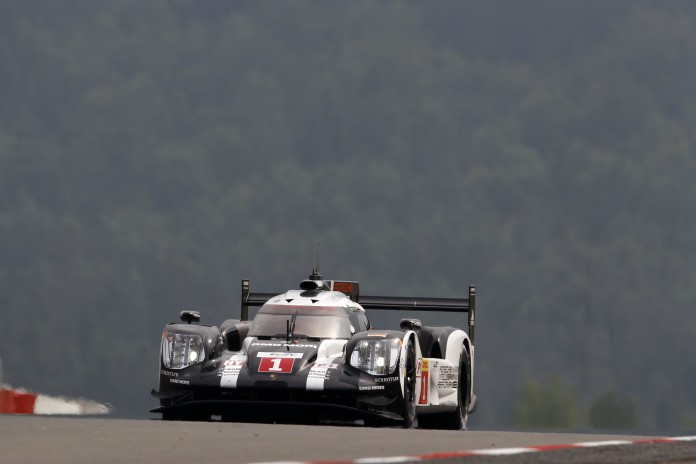 We were kindly invited to attend this racing weekend by none other than the Porsche motorsport division which have a full program for us to enjoy. Starting off this morning with a pit lane and garage box tour, we saw the 65-men strong Porsche team prepping for the third free practice this weekend which has just commenced. The garage setup is very impressive indeed with full teams of mechanics and engineers working around the clock to get all equipment in optimal condition.
With the tires being steadily heated at 80 degrees celsius, the third and last free training before the qualifying session later this afternoon started at 11:00 AM EST. The weather conditions are not ideal today, a light drizzle has been coming down ever since the light of dawn and the visibility isn't great either. This of course reflected upon the lap times of all racing teams although towards the end of the training session lap times came very close to those of yesterday's training session.
It's Porsche's Mark Webber that set today's best lap time so far clocking in at 1:41:002, with Toyota's (5) Nakajima following with a lap time of 1:41:293. Audi teams 6 and 7 came in third and fourth while Porsche's #2 team secured a fifth place during today's practice session. We will be covering the qualifying session later this afternoon live and keep you posted on all of our social media channels. Stay tuned for more!
Free Practice 22-07-2016 PORSCHE TEAM