Zermatt has been known as a famous tourist destination for quite some time, therefore it is not surprising that the town, nestled in the Swiss alps, is not shy of good accomodation. In the picturesque little town at the foot of the Matterhorn, Switzerlands's highest mountain, a great variety of 4- and 5-star resorts await the tourists, many of which are coming from as far as America or far east Asia. I decided to pick Cervo Mountain Boutique Resort for my stay in Zermatt and couldn't wait to check it out.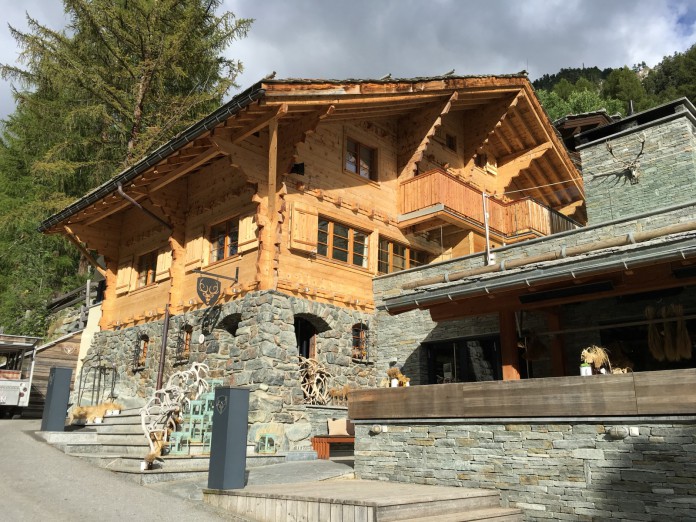 Upon arrival with the Glacier Express coming from St. Moritz, many hotel shuttles were already waiting outside the main station. It is worth noting however, that Zermatt is entirely car-free. The only vehicles you see around are electric powered. Same with the Cervo Shuttle which was ready to pick me up. A short 10-minutes ride through the quaint centre of Zermatt later I arrived at the reception and was friendly and quickly checked-in.
Since it was already 7 pm and I wanted to not miss out on the Spa-area I asked if they could leave it open for me longer than regular hours (10 am – 8:30 pm). They kindly extended it for me to 10 pm, which I was very happy about. That way I could have proper dinner before and then relax.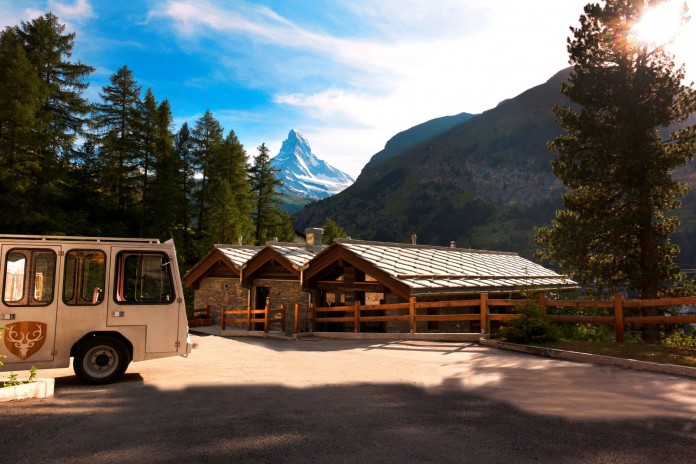 After quickly checking-in at my room I headed down to Ferdinand restaurant which serves typical Swiss cheese fondue as well as raclette and light meals such as salads and sandwiches. I opted for the Mixed BBQ raclette which was great. A platter with varied kinds of meat, sausages and vegetables arrived at my table quickly, ready for me to be grilled to my liking at the table. It was accompanied by a fresh green salad and fantastic "Cervo fries" which were made with truffle oil and Parmesan.
After dinner I went back to my room, quickly changed into my swimming pants and headed down to the Spa area where I enjoyed the Finnish sauna, steam sauna and jacuzzi, which was waiting outside and provided a great view of the surrounding mountains while gently massaging my back in one of the massage seats. Time flew by and it quickly was 10 pm when I decided to head back to my room to get some well deserved rest. The room had received turn down service by housekeeping meanwhile and everything was ready for me to lay down. In total silence I fell asleep quickly and had a great night sleep before the alarm woke me up the next morning. When I opened the curtains the weather was much nicer than the day before and I had a great view over Zermatt from my terrace.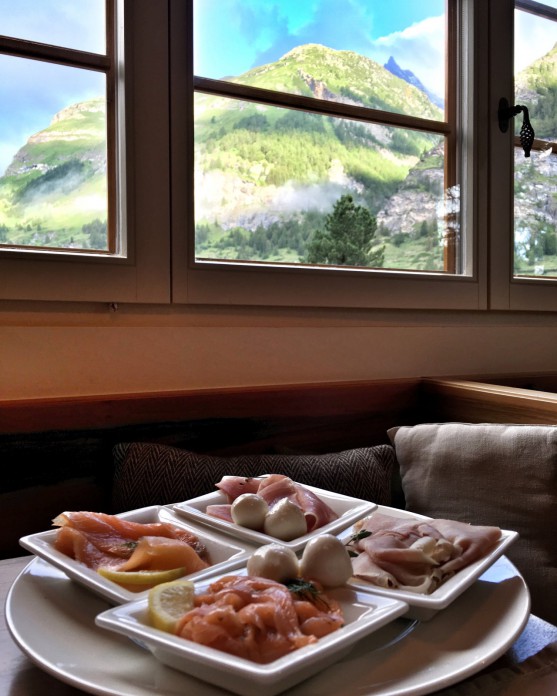 Heading down for breakfast I was the first to arrive at around 7:15 am. For a hotel with "only" 36 rooms the variety and quality of the breakfast really surprised me. Lots of different meat, salmon, several different types of cereals, a lot of bread and rolls and many different fresh juices were waiting for me. Sitting down it took only a few moments before a friendly waiter came and asked me for my choice of coffee and brought me a small glass of apricot-pear smoothie. The Cappuccino was among the best I have ever had in Switzerland, as was the Espresso. A few minutes into my breakfast, the waiter comes back and asks me if I wanted some egg dish and I chose an omelet which was great.
The Location
Zermatt is a small town and famous ski resort located in the Swiss canton of Valais, nestled in the alps in close proximity to the Italian border. Only 6000 inhabitants live here during summer, however the number increases tenfold in winter, because of the many tourists arriving and people working in the hotel industry. It can only be reached by train and the city is entirely car-free. If you arrive by car, you will have to leave it in Täsch, the last village before Zermatt and then jump on a train for a 15-minutes ride into the main station.
Cervo is located up on a hill about a 10 minutes walk east of the center but as mentioned the hotel will gladly provide an electric shuttle to pick you up or drop you off. I especially liked that the hotel was a bit remotely located at the eastern end of the village close to the forest because I love total silence at night and nothing disturbed me at all. From the terrace I had a beautiful view of the surrounding mountains but unfortunately the Matterhorn was hidden in clouds this time. With clear weather, the view should be even better.
The Rooms and Suites
Cervo Mountain Boutique Resort consists of 8 different chalets with 36 rooms in total providing space for a maximum of 76 people.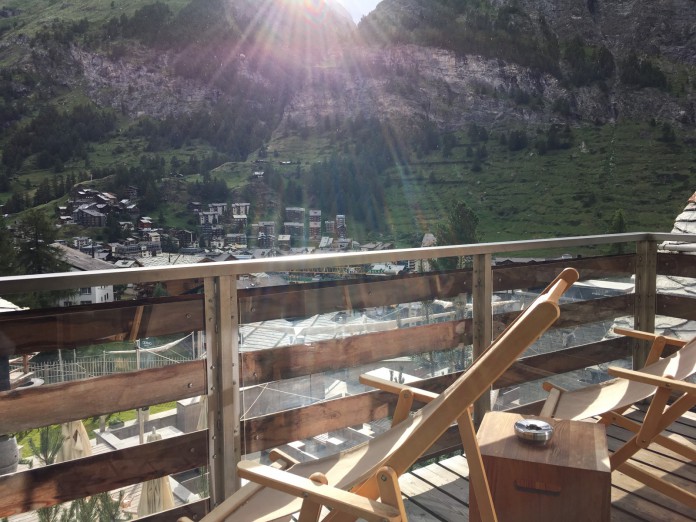 I was staying in a spacious "Cosy Deluxe Room" which had a beautiful terrace overlooking Zermatt and with great views of the Matterhorn.
All of the rooms are appointed in a beautiful mix between traditional alpine chalet style and modern style which I liked very much. I loved the beautiful wooden floor and decor. Beds are very comfortable and a choice of various pillows is available to fit everybody's liking. Free highspeed WiFi and flat TV are standard as well as a coffee machine and the minibar.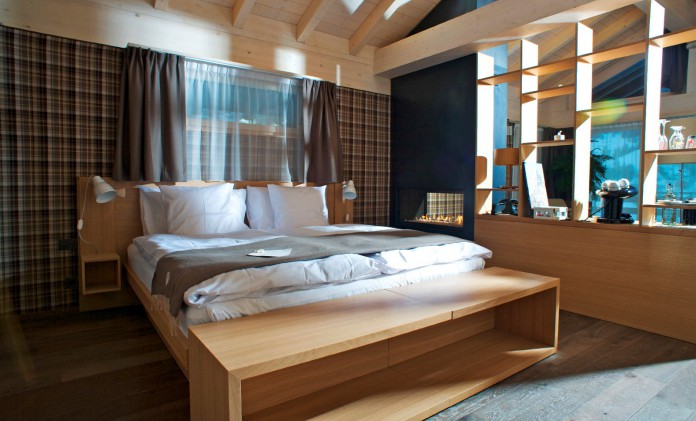 Bathrooms come with a bathtub and a separate walk-in shower, the whole bathroom is designed very openly. While this is certainly nice to look at, I always tend to splash water all over the place when I shower. High quality Molton Brown toiletries are provided.
Standard rooms provide ample space with about 35 sqm, but if you fancy a bit more room and want to have your own Chalet, the Cervo Owner's Lodge provides enough space for a party of 6 people in three bedrooms with a total of 240 sqm. Thanks to the layout of the rooms in different chalets the stay feels very private and personal, which I liked a lot.
Prices range from 460.- to 740.- CHF depending on seasons and occupancy.
Restaurants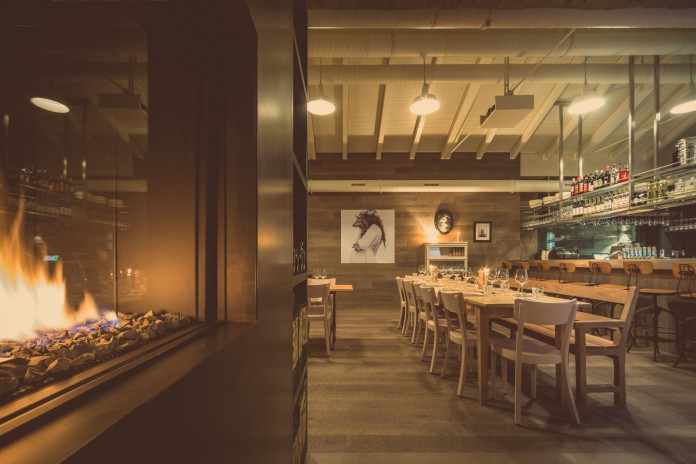 Cervo runs two different restaurants, one of which is Ferdinand, which I could enjoy during my stay. It serves traditional Swiss cuisine such as cheese fondue, bbq and raclette for up to 80 people maximum. It was opened in December 2014 and with its decor it tries to resemble a mix of alpine tradition and modern lifestyle. All cheese and meat come from the Valais canton as well as the wines.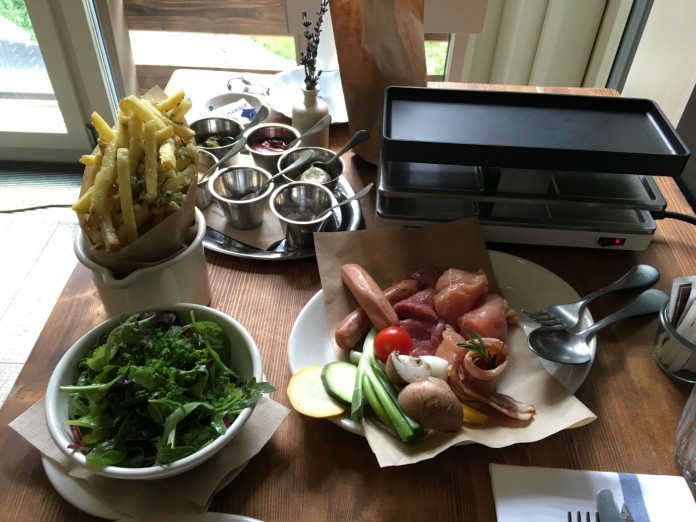 The second restaurant is Cervo Puro which serves Swiss and Italian dishes made from regional ingredients. There is a choice of a-la-carte and various menus which change weekly. Attached is the Cervo Bar / Lounge which provides a cozy and relaxing atmosphere to enjoy a drink.

Located at the end of the ski slopes of Sunegga/Rothorn resort, Ferdinand plays live music daily and hosts concerts frequently for a good apres-ski party during winter season.
Spa & Jacuzzi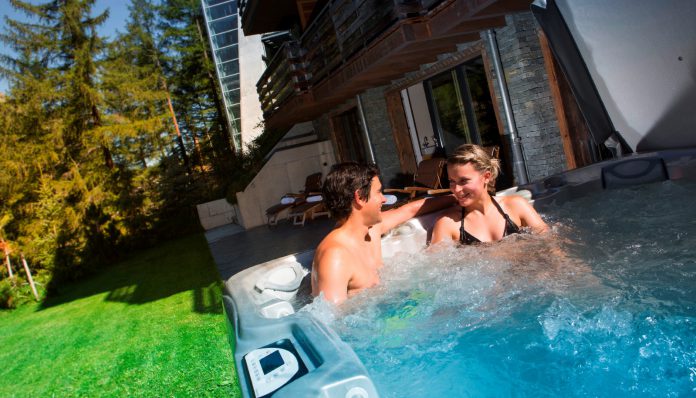 Each of the chalets has its own private wellness/spa-area so it never feels crowded. In fact during my stay at the evening I was the only person there for over two hours. Each Spa is equipped with a Finnish sauna, steam sauna, great showers with rain, massage and waterfall functions as well as a sundance-spa jacuzzi, which is located outside for super relaxing moments surrounded by the Swiss alps and its highest mountain, the Matterhorn. After a long day of skiing I can imagine this is the perfect place to unwind and relax but even in summer this is a great place to spend a few relaxing hours and find your inner balance.
A wide range of massages, carried out by skilled and professional therapists, personal training or medical treatments are available to book as well.
Service
It seemed to me that most of the Cervo team is young and motivated, yet well educated and trained. I was taken care of greatly and didn't have any reason to complain whatsoever. Check-in was fast and efficient, my waiter at Ferdinand was very friendly and always attentive, turn-down service by housekeeping was convenient and the room was spotlessly clean. Combined with a great bed I had a very relaxing night.
Conclusion
Running in its 7th year, Cervo still looks like it's brand new and I loved the modern touch in the chalets combined with luxurious and traditional alpine style. With its smaller size of only 36 rooms spread out over 8 chalets the whole resort gives a sense of privacy and luxury that is hard to be found in any bigger resorts while not compromising on service or accommodation quality. When I come back to Zermatt, Cervo will surely be one of my preferred choices and I can't wait to see Cervo during winter times.
To make a reservation check out their Website. Check out their Instagram and Facebook too.