There are a lot of good 5-star hotels which are just good. They have room sizes adequate to 5-star standards, have good food, friendly service and all the 5-star facilities one could wish for. Those hotels are plenty. Once in a while however, we at GTspirit find a 5-star hotel that is extraordinary. This is exactly what happened when we checked in at Badrutt's Palace in St. Moritz, Switzerland.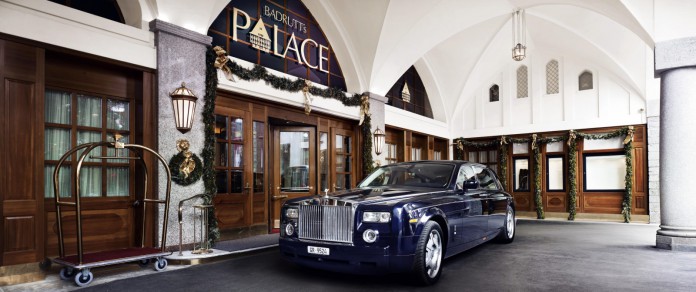 Now since Switzerland doesn't exactly have a reputation for being the country with the most hospitable hotels in the world, it is refreshing to find a luxury hotel that stands out in every way and especially service wise. Many employees have been working at Badrutt's Palace for over 20 years and recognize most of the returning regular guests by their names. 70% of the guests are returning guests, which is an unmatched number for almost any hotel. During winter season up to 520 employees ensure the highest level of service and comfort for the guests and 280 staff during the summer season.
The summer season 2016 lasts from June 24th until September 4th and Winter season starts on December 2nd lasting until March 27th 2017. The times in between are used to softly renovate the hotel.
The hotel has a soul and character which is hard to be found in any other hotel in the world. It is the attention to detail that makes all the difference. Speaking of details such as the scale in the bathroom being covered in towel cloth, extra soft and fluffy slippers, hand towels comfortably placed and easy to reach, a fast closing in-room safe with a power socket inside to charge your phone, a hot-water bottle in your bed provided by housekeeping's turn down service.
St. Moritz today is a hotspot of the rich and famous, who flood into the little town especially during winter times, and with Badrutt's Palace the town has a famous landmark situated prominently above St. Moritz lake, overlooking it on the one side and facing the shopping street of historical St. Moritz village on the other side.
Speaking a bit more about the history, Caspar Badrutt bought the Hotel Beau Rivage (1872) and transformed it to the Palace Hotel in 1892 because his father Johannes made a bet with Englishmen in 1864 to convince them that Winter in Switzerland can be beautiful as opposed to the Winter in England. They would get their money refunded if they didn't enjoy their stay. The Englishmen however loved winter in the Swiss alps so much that they stayed until April.
This bet accounts for the start of Winter tourism in Switzerland because more and more tourists came to the alps in the years after. July 29th 2016 marks the 120th anniversary of the hotel which will be celebrated with a huge festival featuring 120 meters of apple strudel, the worlds most expensive cocktail with a 1.2 carat diamond, afternoon tea as it was celebrated 120 years ago and many others. The hotel is still family owned today by Hansjürg and Aniko Badrutt with a majority of the shares.
Guest demographics today are spread across 7 major markets, which means the clientele is very diverse and the hotel doesn't focus on any country in particular. Badrutt's Palace is member of The Leading Hotels of the World, Swiss Deluxe Hotels and Swiss Historic Hotels.
The Location
Overlooking St. Moritz lake majestically, the hotel can be seen from far away when approaching the famous winter hot spot. Although St. Moritz isn't exactly easy to reach, it is quite a bit of fun to leave 2285m high Julierpass behind and descending into the famous town. Coming from the south, Italy isn't far. The nearest airport for charter planes or helicopters is just 5 km away and for any other guests arriving by plane to Zürich or Milan the hotel provides Rolls-Royce shuttles for the approximately 2-3 hour drive.
The Rooms and Suites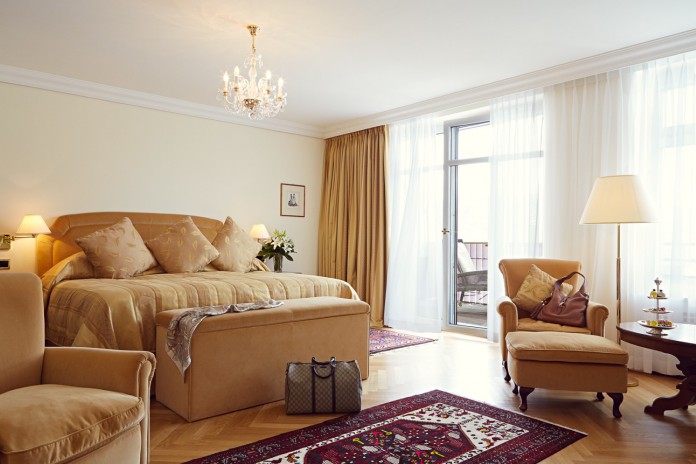 The hotel features 157 rooms and 37 suites which are constantly being renovated softly and kept up to date with modern amenities such as flat-tv, USB-sockets in the wall and high speed WiFi while still keeping the elegant and classy style that the Palace is so famous for.
Since many of the guests are returning guests, it is important for the Managing Director & Delegate of the Board Hans Wiedemann to not change the style of the interior too much. Some people for example like to book the famous Hitchcock Suite, where the director and producer were staying frequently, just because it still very much looks the same as it did 35 years ago. As for me personally, I wouldn't mind a bit more of a modern touch, however with every renovation certain floors are being gently modernized so all guests can have their preferred style of a room.
The most affordable rooms face the village while the more expensive ones provide stunning lakeside views.
I was staying in a spacious Deluxe room with about 30 sqm of size and a small balcony overlooking the beautiful lake.
Bathrooms are all appointed with beautiful Italian white marble and come with a bathtube and large walk in shower with high quality Hansgrohe fittings providing a constant and good shower pressure. Bed linen are of high quality and the mattresses are one of the most comfortable I have ever slept on.
Rooms are equipped with a minibar filled with chilled soft drinks and beer.
The biggest rooms are the two signature suites Hans Badrutt Suite and Helen Badrutt Suite, which are incredibly spacious boasting 280 sqm and providing magnificent views over St. Moritz lake as well as large terrace which can be used for all kinds of events. The Suites also have multiple entrance doors, one for example directly leads into the office area of the Suite, so business partners don't have to be escorted to the living room but can get straight to business.
Rooms are available in a price range from 460.00 CHF to 20'230.00 CHF, depending on season and occupancy.
Restaurants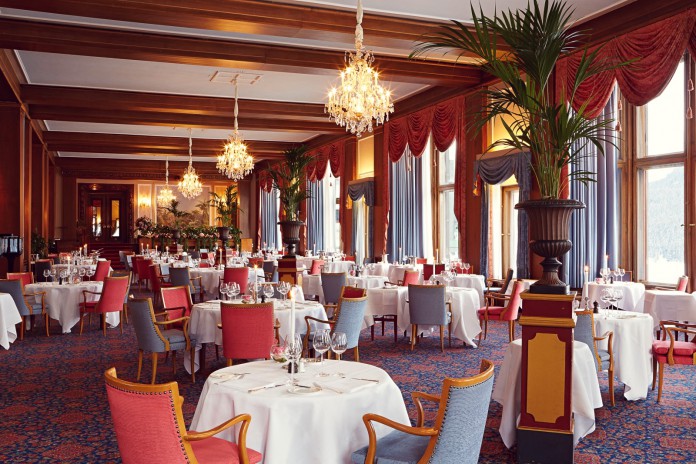 Badrutt's Palace has 7 restaurants, 3 of which are located in a building about 100 meters away from the hotel called Chesa Viglia, which is said to be St. Moritz' oldest farmhouse. The Badrutt family purchased the building in 1936 and then converted it into three restaurants. We particularly enjoyed the Italian restaurant and Pizzeria "Heuboden" (hayloft), which resembles its origin with traditional decoration and lots of wood. Some people say that the best Pizza in St. Moritz is served here and having tried we can confirm that it is indeed delicious. Make sure you try the signature truffle pizza Dama Bianca and the homemade tiramisu for dessert. It is to die for.
Patrizier Stuben serves traditional Swiss dishes and is also open for lunch while Grill Chadafö specializes in meat dishes from the grill and French cuisine but is only open for dinner and only during winter season.
When I arrived around noon at Badrutt's Palace I headed downstairs to La Diala which is close to "Palace Wellness". It serves light Mediterranean meals, salads, sandwiches and snacks as well as great sushi, which I opted for. The mixed sushi plate was delicious and left room only for an espresso, which was equally great. Since it is in close proximity to the gym, protein shakes are also being served for the more active and sporty guests.
La Diala also has a beautiful terrace which can be used when the weather is nice.
Le Restaurant fits up to 300 people and it is the main fine-dining restaurant where french cuisine is served with exclusive service at the table. Here breakfast is also served while a harpist plays relaxing tunes. For dinner wearing a jacket is mandatory but can be rented if guests forgot to bring one.
Le Relais serves french food for lunch and provides stunning views over St. Moritz lake. The restaurant is appointed in Belle Epoque style and provides a warm and cozy atmosphere. During summer season breakfast is served here instead of Le Restaurant.
Le Grand Hall is called the "Living room of St. Moritz" and guests can enjoy the glamour of St. Moritz with High Tea or Champagne with Caviar while watching the lake with soft piano tunes in the background.
In La Coupole Japanese chef Nobuyuki Matsushita opened his famous NOBU restaurant during the winter season 2014/2015. La Coupole used to be an indoor tennis hall in the early 20th century but was used as storage space later on until it was reopened as a restaurant in December 2014.
King's Club is the biggest nightclub in the region with a capacity of up to 200 people and open every night during winter season for lavish parties.
Spa and Pool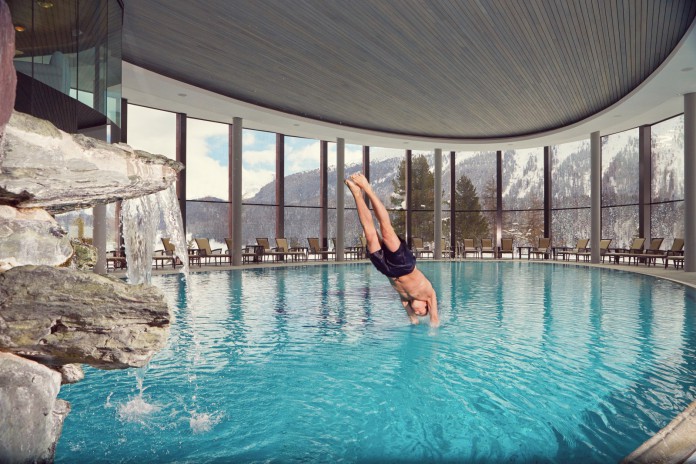 When I took the elevator to the Spa-level I was deeply impressed because "Palace Wellness" was built into the rock so the atmosphere really is spectacular. It felt like walking through a cavern down a hallway for a few meters before I reached the Spa reception and the pool. From there I took another elevator one more floor down for the treatment rooms level. There are 10 different treatment rooms, two of which are luxurious spa suites.
The hotel employs its own therapists who perform the massages and treatments at a very professional level. They are constantly being trained and upgraded. I opted for a relaxing full body massage that lasted 50 minutes and made me totally relaxed. Pressure was exactly to my liking, however could have been adjusted if necessary. After the massage I enjoyed hot tea in the relaxation area before walking down the stairs back up to pool level, after which i headed to the Finnish sauna. After a good 15 minutes session in the sauna I could choose between the rain shower or the massage shower which provides six shower heads mounted on the walls of the shower cabin.
There is an aroma steam room with fresh mint scent helping you to breathe freely and a salt steam room which is also supposed to be beneficial for one's respiratory system. I preferred the aroma steam room though.
It is worth mentioning that clothing is optional in the sauna/steam room area.
There is an indoor pool with a depth of 4 meters, so I was told that jumping from the beautiful rocks is not only perfectly acceptable but even recommended. So of course I tried :-) Aside from the indoor pool there is a small outdoor pool with jacuzzi which is heated nicely so even heavy rain didn't make me feel uncomfortable. For those who want to work out there is a fully equipped gym with modern and well maintained Techno Gym gear.
Service
Service is not just service at Badrutt's Palace. It's more like coming home to a big family for most of the returning guests. But even for me as a first time guest I felt very well taken care of at all times. From check-in to room service to restaurant service to the chauffer service, everybody seemed to be well informed about my plans. The room was spotlessly clean and there was nothing to complain about whatsoever.
I did not make use of the Butler service which is included in the Suites and some of the rooms but I'm sure it's on the same level.
Conclusion
Badrutt's Palace in St. Moritz has its price but then again it offers something hardly any other 5-star hotel can provide. The feeling of coming home to one of the most luxurious homes you can imagine. The fact that the rate of returning guests is so crazy high just proves that it is really a privilege to stay at Badrutt's Palace and worth every cent. Appropriately we were taken to the station in the Rolls-Royce Phantom when our stay came to an end.
To make a reservation check out their Website. Check out their Instagram and Facebook too.