You need to be a Lamborghini addict to know the name of this prototype by Bertone: the Lamborghini BRAVO.
Even more rare is the chance to see one – Gtspirit photographer David Kaiser travelled far to catch this beauty and is now proud to share his photo set of this still futuristic car!
The magnificent Bravo prototype was a smaller entry level model to be positioned next to the Countach back in 1974 and taking sides with the Urraco. The Bravo received a 300 Bhp 3-Liter V8 engine and some amazing styling, especially the glass parts of this car looked really incredible … a nice addition to the already stupendous looking Countach.
In just 10 years after its founding in 1963, Lamborghini rose to become a powerhouse in Italy's supercar echelons, rivalling Ferrari and Maserati. Starting with the ground-breaking Miura, the Sant'Agata Bolognese manufacturer had begun a fruitful collaboration with Bertone, which also spawned the Espada and Jarama and culminated in 1973 with the launch of the outrageous Countach. In parallel to those V-12-powered cars, Lamborghini launched a V-8 line with the Urraco in 1970. It was on this chassis that Bertone based its third Lamborghini dream car after the 1967 Marzal and the 1971 Countach prototype.
After being unveiled at the Turin Motor Show in October 1974, Bertone hoped the Bravo would be adapted into a two-seater model to sit alongside the 2+2 Urraco in Lamborghini's line-up. For this reason, the proposed car was a good 20 inches shorter than the Urraco, with its wheelbase chopped accordingly by 7.8 inches. The engine was the three-litre unit of the P300 version of the Urraco, launched concurrently. It was fed by four twin-choke Weber carburettors. In a 1970s road test, Road & Track praised the car for its power delivery and the precision of both its steering and its handling, concluding that "it is everything the Urraco could and should have been."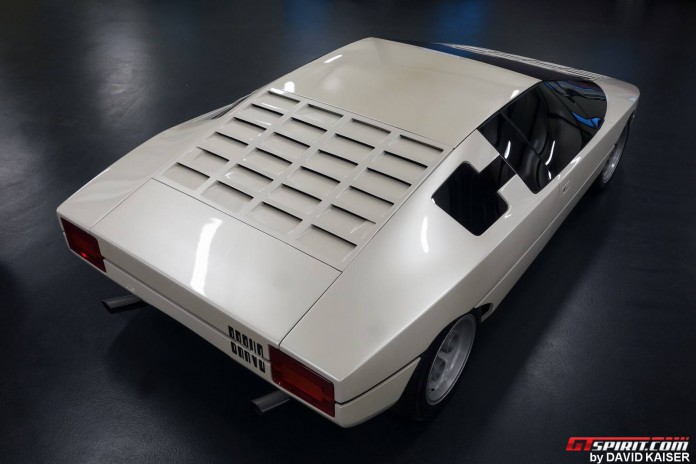 As with many other Bertone show cars of the era, the Bravo was repainted early in its life. The original light metallic yellow gave way to a darker shade of green. It was subsequently finished in pearlescent white just a few years ago as part of a light overhaul. RM was pleased to offer this highly important motor car in very presentable condition, directly from the Carrozzeria Bertone Collection, at the RM Auctions during the Villa d'Este event in 2011
Follow David Kaiser on IG for more of these photos. Credits for historic facts go to Lamborghini Registry.