May in Hong Kong saw three important new vehicle launches in town, two of which dominated by high-tier British marques. And Rolls Royce is one of them, when the local dealership launched the new Dawn at a discreet makeshift location in a certain quiet residential hideaway in Wan Chai.
Except that the weather didn't do much justice and the two-night, one-day presentation event, which served the VVIPs, local auto press and VIPs respectively, concluded in heavy rain. Luckily, this new flagship piece of automotive artwork remained dry and safe inside throughout.
The Dawn is definitely another of Rolls Royce's great, beautiful, and perhaps addictive piece of automotive art, especially with its top retracted. Rolls Royce has explicitly advised against regarding the Dawn as a direct Wraith cabriolet variant, claiming that over 80% of the exterior body components are unique. The Dawn's updated LED headlight housing, first used on the Ghost II, is another of such example that sets apart from the current-spec Wraith.
The underpinnings and certain chassis settings, meanwhile, are different as well. For example, a cabriolet requires overall torsional rigidity to be strengthened to maintain the vehicle's dynamic composure while keeping weight down. As such, the Dawn's suspension configuration has been redesigned with respect to its body stiffness and mass distribution, to ensure the "ultimate cruising comfort and the expected 'magic carpet' ride."
Undoubtedly, the Dawn's "Silent Ballet" roof mechanism is another main play which Rolls Royce's engineers have paid great attention to. Consisting of six different fabric layers, the roof ensures excellent durability, weather resistance, high interior roof clearance, and superior cabin noise insulation. Near-silent, remote-controllable roof actuation (in either direction) can be achieved in 20-22 seconds with speeds of up to 50km/h, although such operation is obviously not suitable under windy conditions, and that it remains to be seen whether silent operation would still hold true in the long run (due to components' wear).
The Dawn is closely associated with marine-style luxury, as exemplified in the available open-pore cherry wood for the interior inlays and the rear deck board, commonly utilised in luxury yacht fittings. Meanwhile, the custom orange leather-upholstered interior is not something new and has been in the bespoke portfolio long ago, but has not been brought into spotlight until only recently, when Rolls Royce attempts to focus on the younger rich customer base. Definitely a bold move, even though the orange may be offending to some mature audiences, so we think.
Like the Ghost/II and Wraith, the Dawn is also powered by the N74B66 twin-turbo, 570hp V12. And despite a 2.56-tonne curb weight the vehicle can still start from zero to 100km/h in just 4.9 seconds.
Inside, the Dawn's interior is typical Rolls Royce luxury, with ample of legroom, big and comfortable seating, as well as abundant storage space, even though the rear seats feel a tad too reclined and deep, rendering exit a bit inconvenient. But whoever is unfamiliar with the typical Rolls Royce controls may still have a hard time sorting out the various buttons, dials and dip switches on the center stack, some of which even control the automatic door closing operation (not to be confused with the assisted door closure feature typically found on other BMWs), even though they may share some similarity with typical BMW controls.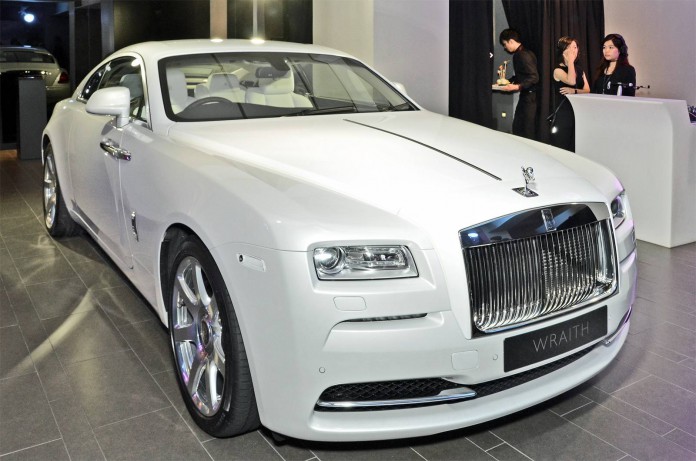 The Dawn certainly does not come cheap locally, starting from $6.9M after taxes and is one million dearer than the Wraith, meaning the complete vehicle would likely cost at least $7.5-8M with bespoke options accounted for (ah, the orange leather). But seriously, who would ever want a Rolls Royce in standard spec with limited generic options? After all, most Rolls Royce models come out of the assembly line in bespoke form, and we're talking 100% bespoke treatment in markets like China (including Hong Kong probably). And the city's ultra-riches are probably unnerved by such grossly bloated post-tax rates, as we hear that another two have been sold during the first VVIP reception night. Nevertheless, due to critical worldwide acclaim since its release last year, stock allocation has been pretty tight. Any immediate orders will likely be fulfilled and delivered sometime next year during the first quarter; although, deliveries of advanced early bird pre-orders are to be commenced later this summer, just in time for some cool cruising in the autumn season.
According to Michael Schneider, General Manager for Asia Pacific, most prospective Wraith and Dawn buyers regard these cars as the ultimate works of art – comparable only with other luxuries like antique paintings, timepieces and even jewelleries – with no other auto make/model coming close. And Rolls Royce has been banking on the bespoke ideology thanks to the new younger generation of tasteful riches, as well as an increased number of female owners/drivers. And since the release of the Ghost, Wraith and Dawn models, the average driver's age group has fallen from the early-50s to the mid-40s.
We've been told that the Dawn at the two-day course is a proper HKDM dealer's demo also fitted with such additional extras as surround view cameras, and head-up display. It has been on display for a few days at Rolls Royce's showroom the following week, but was removed again recently probably for customers and/or auto press test driving purposes, whichever comes first.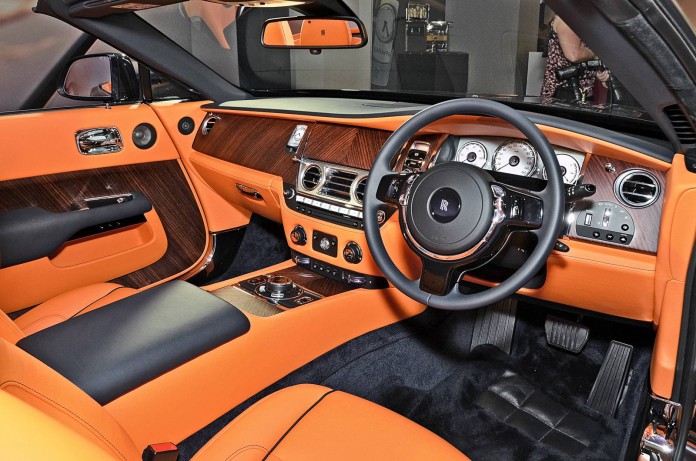 Elsewhere, the Dawn was launched in Japan since March 2016 and starts from JPY37.4M with a four year/160,000km warranty. Both LHD and RHD versions can be ordered, although a Tokyo-based rep told us the LHD versions sold a bit better. Meanwhile US-bound MY2016 models start from $339,850.