If you're looking to spice up your new Audi Q7, JE Design might just have the right modification program for you. Not only does JE Design modify the exterior by installing a widebody kit, it also offers to boost the luxury SUV's performance and fit on some custom wheels.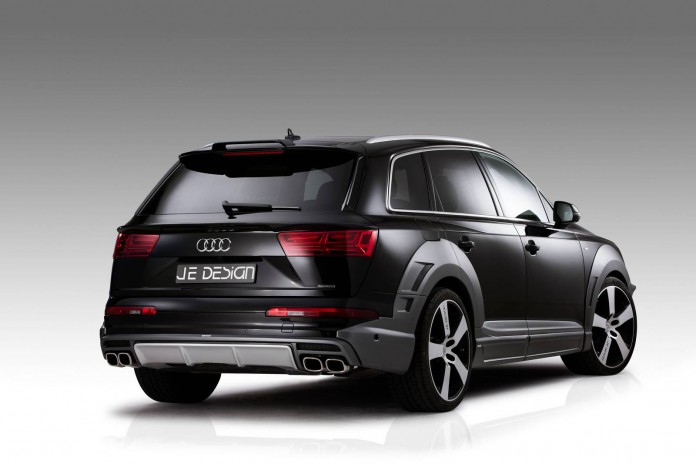 Installing the aerodynamic widebody kit includes a front apron, fender extensions, side skirts, rear skirts and a modest roof spoiler giving the Q7 an even more aggressive look. The custom bodykit is specifically designed for this generation Audi Q7 and the yet to be delivered all-new Audi SQ7.
At the rear the exhaust setup is available on both the Q7 S-line and SQ7. Customers can choose between the quadrangular pipes that share similarities with the AMG house style exhausts or a rounded version that equally has four pipes leaving the car's rear end. According to JE Design customers don't need to worry about their trailer hook, it's still functional once the bodykit is installed.
Recommended are the 22-Inch wheels that visually seem to be more fitting than the Q7's stock wheels. Arriving at the engine, the German tuning company has already prepared a performance enhancement for the V8 tri-turbo TDI engine that will power the 2017 Audi SQ7. After the power upgrade, the V8 diesel produces 522 hp (384 kW) and customers that have the 3.0-liter six-cylinder aren't passed on either. The V6 that is currently the most powerful engine of the Q7 will receive a performance boost of 54 hp and 85 Nm, bringing the 272 hp to a steady 326 hp.