Aston Martin has revealed its new GT racers for the 2016 season, the V8 Vantage GTE and the V12 Vantage GT3.
The 2016 Aston Martin V8 Vantage GTE will lead the brand's campaign in the FIA WEC while the V12 Vantage GT3 will take part in the 24 Hours of Nurburgring. Three V8 Vantage GTEs will be fielded in the WEC, two in the GTE Pro class and one in the GTE-Am class. Two V12 Vantage GT3s will take part in this year's N24 race.
Aston Martin V8 Vantage GTE
Darren Turner will lead the team of Nicki Thiim and Marco Sørensen from Denmark in the #95 GTE Pro entry. The second GTE Pro entry, the #95 car will be piloted by Richie Stanaway (NZ), Jonny Adam (GB) and Fernando Rees (BR). Leading the GTE-Am campaign in the #98 car will be Paul Dalla Lana (CA), Pedro Lamy (P) and Mathias Lauda (A). Aston Martin boasts of 23 overall FIA WEC wins, more than any other car maker.
The 2016 V8 Vantage GTE receives a new aerodynamic package featuring a redesigned rear diffusser. Aston Martin has further partnered with Dunlop in WEC, all three cars will run on Sport Maxx GT racing tyres. Total has been named as the new technical partner for the team in the 2016 season. Lastly, the cars will adopt a new exclusive 'Stirling Green' livery for the 2016 WEC season.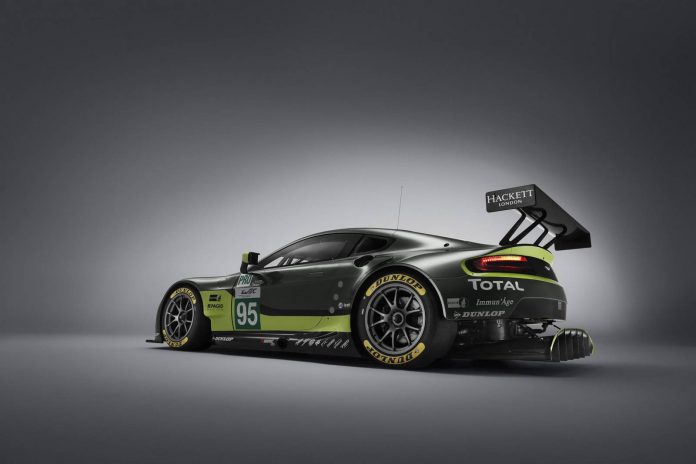 The 2016 Aston Martin V12 Vantage will take part in the top class of the 24 Hours of Nurburgring, the SP9 class. Two cars will be fielded in this year's race, a full-livery for the #007 car will be revealed in coming weeks. In addition to that, the British car maker has partnered with IQ Option for the 2016 N24 race.
Speaking about the new cars, Head of Global Motorsports Aston Martin, David King said, "It's fantastic to launch our 2016 race programme here at Aston Martin's Gaydon headquarters. It's an important point in time for the brand with the upcoming launch of DB11 and the 2016 motorsport season is an equally exciting prospect. Motorsport is a key part of Aston Martin's DNA and it's vital that we're represented by such a strong line-up. We're very much looking forward to our home race at Silverstone and the first opportunity to see the 2016 V8 Vantage GTE in competitive action."