Lotus have unveiled the an addition to the Lotus Elise range, the Lotus Elise Cup 250 which will be unveiled at the Geneva Motor Show 2016. It is the fastest Elise ever with reduced weight and a limited production run. It replaces the outgoing Lotus Elise Cup 220.
The Lotus Elise Cup 250 gets a 1.8-litre 4-cylinder supercharged engine. It gets an additional 26 hp for a total figure of 246 hp at 7200 rpm and 250 Nm of torque between 3500 rpm and 5500 rpm. As a result the Lotus Elise Cup 250 sprints from 0 to 60 mph in 3.9 seconds with a 154 mph top speed.
Part of the performance gain is down to the weight savings achieved by the Lotus Lightweight Laboratory. The Elise Cup 250 loses 21 kg thanks to a new Lithium-ion battery, carbon fibre seats and lightweight forged alloy wheels. The Lotus Elise Cup 250 now weighs in at 931 kg with a power to weight ratio of 261 hp/tonne.
The Lotus Elise Cup 250 is available as a roadster with the hard top available as an option. A further 10 kg reduction is available thanks to a Carbon Aero Pack, reducing total weight to just 921 kg. The Carbon Aero Pack replaces the standard front splitter, rear wing, rear diffuser and side floor-extensions.
The new body kit provides an additional 66 kg of downforce at 100 mph. Around Hethel, the combined changes shave four seconds off the lap time with a final time of 1 minute 34 seconds.
The Elise Cup 250 gets a recalibrated ignition system and wider 195/50 R16 front tyres. The Lotus Dynamic Performance Management (DPM) system is also available, offering a 'Sport' mode with, increasing throttle response, lower traction slip thresholds and enhanced traction control.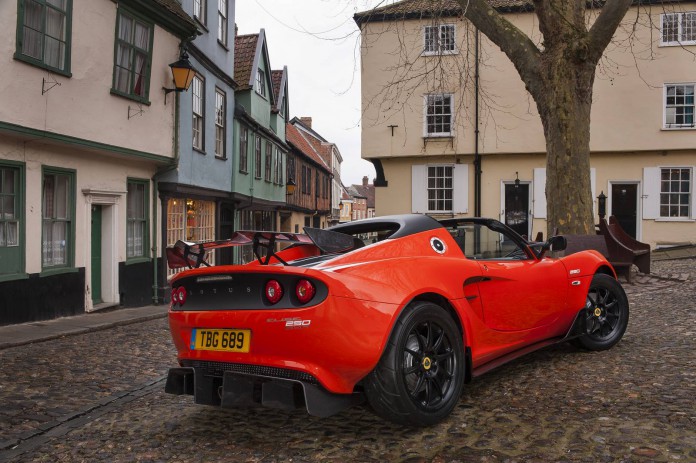 The suspension gets an adjustable front anti-roll bar, Bilstein sports dampers and Eibach coaxial coil springs. The brakes are AP Racing twin-piston front calipers and Brembo single-piston rear calipers. The standard wheels measure 16 inches at the front and 17 inches at the rear.
Inside, the Elise Cup 250 comes with a full Alcantara interior in red or black. Leather is an option extra together with an integrated in-car entertainment system, including iPod connectivity and Bluetooth functionality. 10 exterior paints are also available, eight are cost options. Customers can also choose a personalised look via the Lotus Exclusive programme.
The Lotus Elise Cup 250 goes on sale in all major markets from April, although North America won't be getting it.