There is something special about sailing yachts that we love, and that's is their ability to fully combine racing edge performance with utmost luxury confinement onboard. That said, our Superyacht Sunday today features the latest sailing yacht by Dutch shipyard Vitters named Ganesha.
At 150 ft in overall length, Ganesha is a performance cruiser designed by the renowned Dubois Naval Architects Ltd. The owners wanted a yacht that can match competition at the Regatta and at the same time offer world-class luxury comfort during sea cruises. The exterior design features revolutionary stylings such as the pop-up bollards, a winch put forward of the mast to hide the halyards and sheets as well as an under deck staysail furler.
Another key styling on Ganesha is the fixed carbon bimini found at the cockpit. This area has vertically sliding windows in a curved design that beautifully encloses the cockpit. While cruising in warmer seas, the companionway can be opened to link up the cockpit and the deckhouse creating one large living area.
Ganesha Sailing Superyacht
The interior design takes Ganesha to the next level of interior upholstery, where design firm Newcruise were put in charge of this department. The overall styling was inspired by the Indian culture, the name Ganesha means "Lord of Hosts" in Hindu which reflects the owner's' request for a spacious sailing yacht.
There are four guest cabins including one master suite and an additional TV lounge, the crew area is located in the lower deck. The main saloon benefits from natural lighting thanks to the large windows while interior elements are finished in select leather materials including elephant skin inspirations. Other fabrics were carefully chosen to match the Maharajah times as well as the Indian Holi rituals.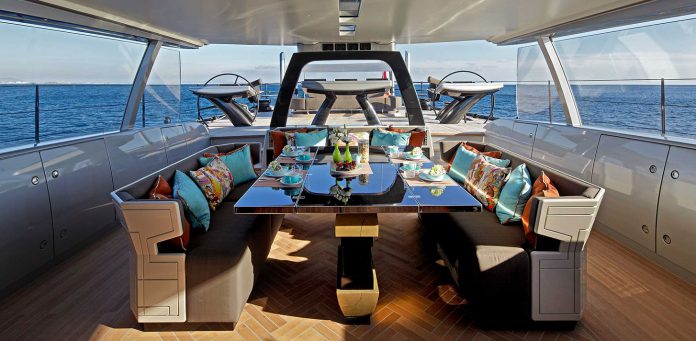 Powering Ganesha is a Caterpillar C18 C engine rated at 533 kW. The mast is made of carbon fiber and has an overall length of 62.9m.