Stage 4 of the Dakar Rally 2016 marked the first part of the Marathon stage, the stage ran through Jujuy for a distance of 429 km. The trucks had a shorter distance of 418 km to cover.
Peugeot Sport extended their domination by claiming the top three spots after the stage, with Stéphane Peterhansel taking the win ahead of Carlos Sainz and Sebastien Loeb. Last year's winner Nasser Al-Attiyah brought his Mini home in fourth place to complete a very competitive first half of the marathon stage.
Loeb leads the overall standings in the car category away from his Peugeot teammate Peterhansel and MINI's Al-Attiyah.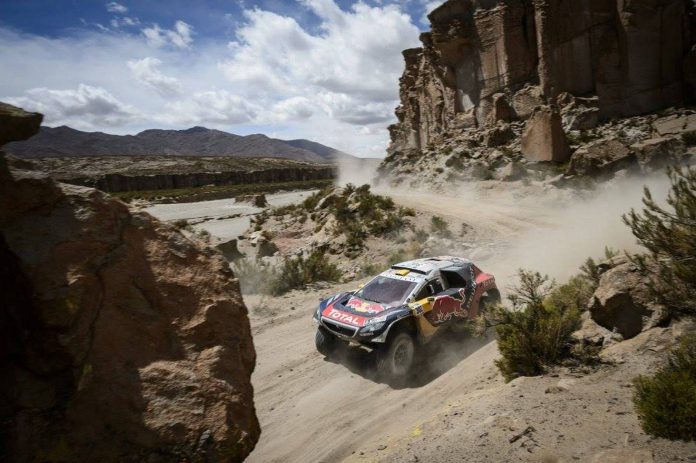 Honda rider Paulo Gonçalves was the fastest in the bikes category beating his closest rivals Ruben Faria – who made a comeback after falling back in stage 3 – and another Honda rider, Kevin Benavides who finished third. Gonçalves continues to lead in the overall standings after four stages, with two Honda teammates in 2nd and 3rd. (Benavides and Joan Barreda)
Argentinian rider Marcos Patronelli won the quads category riding for Yamaha – who have continuously won every stage so far. Alexis Hernandez finished second in another Yamaha ahead of the overall standings leader Ignacio Casale who also rides a Yamaha.
Dutchman Gerard de Rooy finished first for Iveco in the trucks category ahead of Peter Versluis of MAN and Hans Stacey of MAN. Versluis leads the standings after stage 4 while MAN leads the manufacturer standings.
Stage 5 takes place today from Jujuy to Uyuni, a distance of 624 km in total albeit the stages will cover 327 km.