Germany based tuner G-Power once again got their toolkit out and started tinkering on the timeless BMW M3 E92. The result is a 740hp mean looking monster that is ready to tear up the race track.
It's not the first BMW M3 E92 that G-Power put their hands on, we've seen a couple of tuned M3's over the years including the Hurricane and Tornado RS versions. With hundreds of tuning packages introduced over the years, unsurprisingly the great sounding V8 of the BMW M3 E92 functions as a great starting platform for car tuners like G-Power. The M3 E92 first went into production in fall 2007 and was the last generation M3 to feature a V8.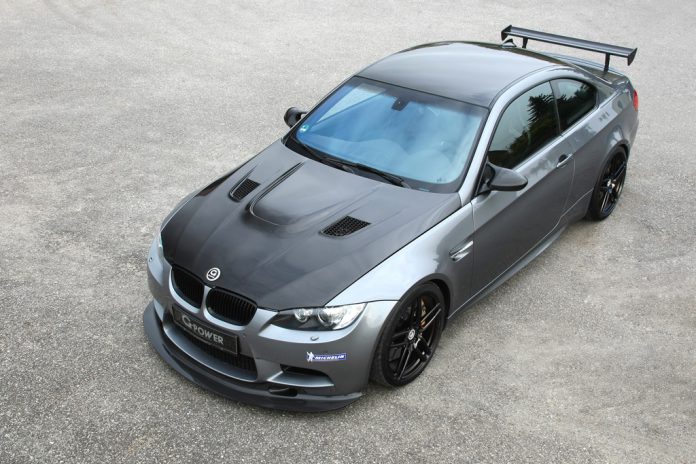 The M3 E92's base performance figures are already quite impressive, outputting 420hp and a maximum of 400 N.m. of torque. As standard, the BMW M3 E92 accelerates to a 100 kilometers an hour in 4.8 seconds and has an electronically limited top speed of 250 km/h. BMW specialist G-Power cranked up the Bavarian sports-coupe's by a great deal equipping the M3 with their SK III supercharger system. Combined with an extensive weight saving programme and new carbon-fibre trimmed aerodynamic features the new G-Power BMW M3 RS E9X is ready to take on some of todays fastest supercars.
The dynamometer now reads an output of a whopping 740hp and a maximum of 700 N.m. of torque, making it the most powerful version of the G-Power M3 RS to date. The E9X is capable of going well beyond 340 km/h and now accelerates to the magic 100 in just 3.7 seconds, more than a second up from the standard 4.8 seconds.
The most fundamental component in the carbon-fibre supported weight saving programme is the vented 'Carbon Venturi' bonnet, weighing in at just 8.4 kilograms. Other carbon-fibre components include the front spoiler, rear spoiler and the boot lid, the last one alone saving 5 kilograms in weight. Last is the G-Power titanium exhaust system, featuring a pair of 100-cell metal sport catalysts. Altogether G-Power's in-house CAD development programme makes the M3 E92 lose 26 kilograms, making it even faster and more agile.