Planning to introduce 19 new models to the Mercedes-Benz line-up between now and 2020, Mercedes-Benz is trying to further strengthen their position in the worldwide marketplace. Spy photos recently emerged of the yet to be announced Mercedes-Benz C-Class Convertible, which again proofs that the German luxury car manufacturer isn't planning on taking any breaks when it comes to new vehicle developments.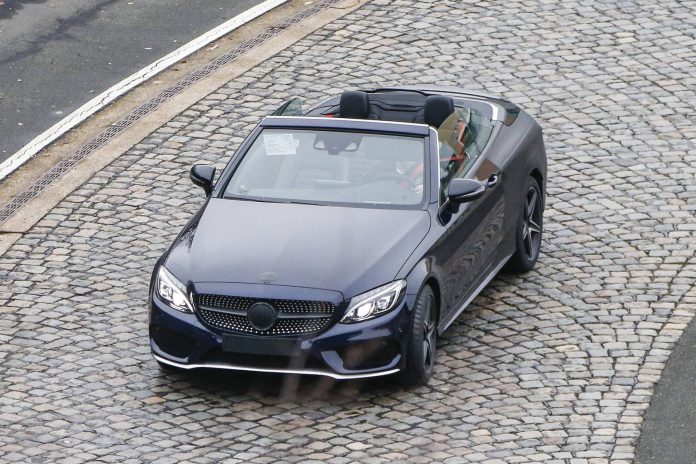 After the Mercedes-Benz CLK was replaced by the E-Class Convertible, the C-Class model is finally set to receive its own topless version by spring 2016. On the photos the new prototype of the C-Class Cabriolet is spotted driving with both top down and closed near Mercedes' second largest production plant in Germany. Ready to fuel the open-top C-segment conflict with Audi's A3 convertible and BMW's 2 series convertible, Mercedes-Benz latest C-class variant will start production just months after the market launch of the new C-Class Coupé.
2017 Mercedes-Benz C Class Cabrio Spy Shots
The CLK cabrio left a small gap for competitors to jump in, after it was replaced by the E-Class Cabriolet. The E-Class Convertible is effectively closer in size to the E-segment, leaving the open-top C-segment territory unchallenged. The new C-Class convertible will be there to fill the gap, with the new Benz convertible being quite competitively priced as well according to several sources. In reports it is said that the latest Mercedes-Benz convertible is to be priced below the recently announced Mercedes-Benz SLC.