An incredible rare 2015 Porsche 918 Spyder with a Gulf Racing livery is currently up for sale in Canada courtesy of the Wyant Group. This 918 is one of just two to be adorned in such a special livery and is bound to become one of the most valuable 918 Spyders in the decades to come, with its value likely to climb and climb.
The paint has period correct Gulf Blue and orange as well as painted Gulf logos courtesy of Porsche Exclusive. Making the package all the more special is that this 918 Spyder has been optioned with the weight-saving and aerodynamics Weissach kit which includes magnesium wheels and new carbon fibre fins on the rear bumper among other things.
Other selling points of this 918 include the special order luggage set in carbon fibre, Gulf Blue and orange, a front axle lift system, Burmester high end surround sound system, special order gas bonnet struts, the deletion of the standard exterior Acid Green elements and Gulf logo embossed headrests. The German hybrid hypercar also includes six point racing harnesses. Even the key fob has been painted in the iconic Gulf livery.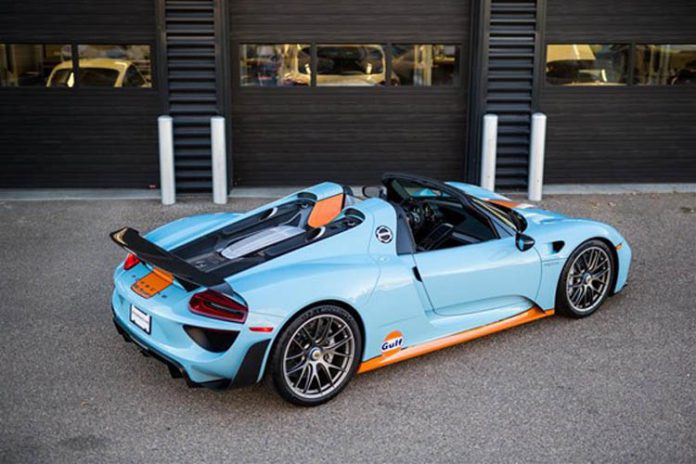 Interestingly, both the Gulf Racing Porsche 918 Spyders produced are owned by the Wyant Group with one set to remain in their private collection.
While no mileage or pricing details have been released of this example, we wouldn't be surprised if it becomes the most expensive 918 once it finds a new home.