Production of the sixth-generation Chevrolet Camaro has just kicked off at the Lansing Grand River Assembly facility with the first examples bound for dealerships.
The very first production models will be completed by the end of the week before being shipped to dealers across the United States ahead of customer deliveries in mid-November. To support the sixth-gen Camaro, the factory underwent a $175 million tooling and equipment upgrade.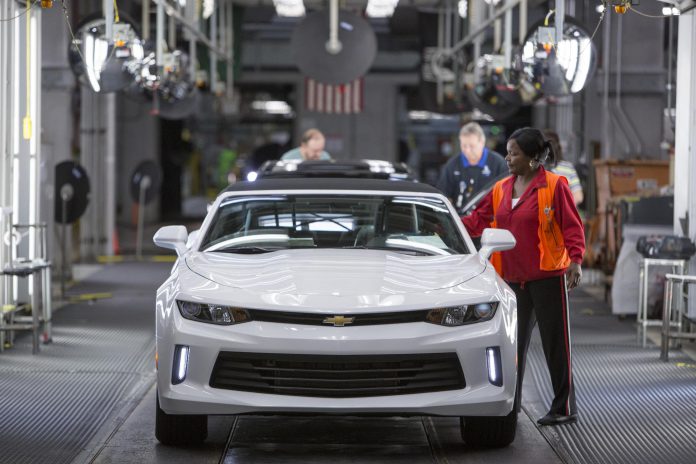 Discussing the milestone, Lansing regional plant manager Mike Trevorrow said "It is an exciting day for everyone involved in bringing the new Camaro from a concept to the assembly line. As the transporters head out to dealerships across the country, the hard work and pride of everyone at Lansing Grand River Assembly goes with them."
In case you didn't know, the sixth generation Chevrolet Camaro sheds 200 pounds or more, depending on the model. Structural rigidity was increased by 28 percent, while the body-in-white mass was reduced by 133 pounds (60.5 kg). Weight savings come from the aluminium instrument panel frame, aluminium front suspension links and steel rear suspension links with lightening holes.
Engines include a new 2.0-litre turbocharged unit producing at 275 hp and 295 lb-ft (400 Nm). The new engine delivers more than 30 mpg on the highway (GM-estimated), and 0-96 km/h acceleration of under 6 seconds. Chevrolet also offer a new 3.6-litre V6 with 335 hp and 284 lb-ft of torque (385 Nm) – the highest specific output of any naturally aspirated V6 in the segment. The range topping Camaro SS gets a new 6.2-litre LT1 direct-injected Small Block V8 rated at 455 hp and 455 lb-ft of torque (617 Nm).