Nico Rosberg has won pole for the 2015 Formula 1 United States Grand Prix which takes place in a few hours. Q3 was cancelled after heavy rains invaded the track again forcing race control to determine the grid using Q2 times.
Lewis Hamilton will start from P2 leading Ricciardo, Kvyat and Vettel in the top five. The world champion said, "Lots of fun for all of us I think. Happy with the one-two for the team. I was looking forward to running in Q3."
United States GP 2015 Qualifying Results
| Driver | Car |
| --- | --- |
| 1. Nico Rosberg | Mercedes |
| 2. Lewis Hamilton | Mercedes |
| 3. Daniel Ricciardo | Red Bull |
| 4. Daniil Kvyat | Red Bull |
| 5. Sebastian Vettel | Ferrari |
| 6. Sergio Perez | Force India |
| 7. Nico Hulkenberg | Force India |
| 8. Kimi Raikkonen | Ferrari |
| 9. Felipe Massa | Williams |
| 10. Max Verstappen | Toro Rosso |
After the unusual postponement of qualifying yesterday, the track conditions in Austin this morning proved to be quite bearable. Most teams used the first ten minutes of Q1 to set times, with Q2 and Q3 facing a risk of more rain. Lewis Hamilton could win the 2015 F1 title in this round if he beats Sebastian Vettel by 9 points and Nico Rosberg by 2 points.
Luckily for the Briton, both Vettel and Raikkonen will incur a 10-place grid drop in the main race for engine changes.
Carlos Sainz was the first victim of the tricky track in Q1 after he crashed his Toro Rosso at turn 3. He spun before driving into the gravel and eventually hitting the barriers. Meanwhile, Hamilton was the fastest driver on the field on 1m59.393s leading the two Red Bulls of Ricciardo and Kvyat. Vettel, Hulkenberg, Raikkonen, Perez, Alonso, Stevens, Rossi and Nasr had not set any time yet.
After restart, Rosberg managed to go fastest in most sections which was enough to place him behind Hamilton on the scoreboard. A few seconds later Ricciardo and Kvyat went faster than Rosberg demoting the German to fourth place. With less than 5 minutes left into the session, Rosberg went fastest again, at the same time Vettel went off at turn 5 and had to box.
The times interchanged for a couple of more times, eventually it was Ricciardo who ended the session with the fastest lap on 1m56.495s. He led Rosberg, Hamilton, Kvyat and Raikkonen. Eliminations in Q1 included Ericsson, Nasr, Rossi, Stevens and Sainz.
Ferrari's radar confirmed that the weather would remain the same throughout Q2, with showers of rainfall still evident on the track. Drivers did not waste any time in the session – Hamilton topped the sheets on 1m57.555s before Rosberg aced that with a 1m56.824s lap. Perez then set his personal best to take P3 only to be beaten by Ricciardo a lap later.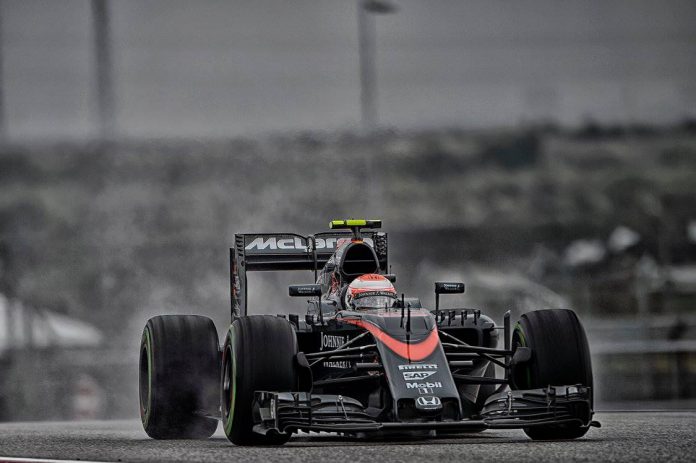 Rain began to increase leading to a few incidents including a spin from Raikkonen and a full 360-degrees spin by Hamilton at turn 10. Vettel and Verstappen followed suit after spinning at turn 9 – there was too much spinning action due to increasing levels of water on the track.
"It's very dangerous out here," echoed Kvyat over the radio. He was later asked to box in. "They are red flag conditions," added Vettel. Meanwhile; Alonso, Bottas, Grosjean, Button and Maldonado were eliminated in Q2.
Q3 was cancelled after being delayed for 10 minutes due to increasing rain; that means Rosberg will start from pole ahead of Hamilton, Ricciardo, Kvyat, Vettel, Perez, Hulkenberg, Raikkonen, Massa and Verstappen (top 10).