The crew at G-Power has just unveiled its range of modifications for the X6 M50d. As standard, the X6 M50d features one of the most interesting powertrains on the market with no less than three turbochargers. While those turbos are used to provide smooth power delivery and impressive fuel efficiency, G-Power has managed to tweak them to pump out some extra power.
For starters, G-Power has managed to lift power to 455 hp and 870 Nm of torque. That additional power comes courtesy of the company's D-Tronik 5 V1 power module or alternatively, the D-Tronik 2 V1 ECU remap is offered.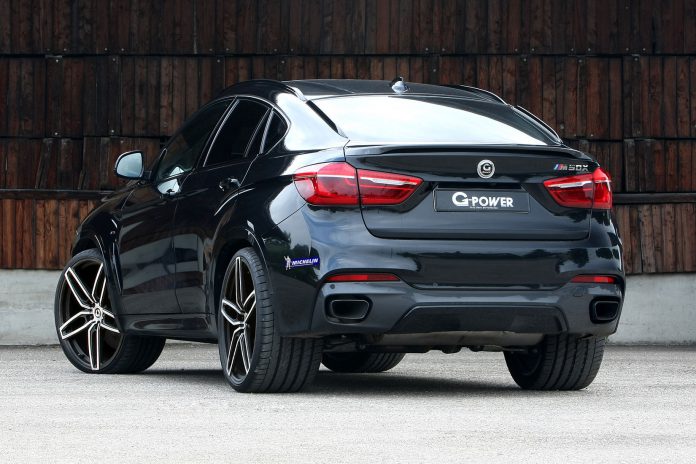 The G-Power D-Tronik 5 V1 power module is placed between the factory ECU and engine and under normal acceleration, remains inactive. When full throttle is applied however, the additional 74 hp and 130 Nm of torque is provided instantly. By comparison, the remap allows for customisations on part of the customer for things like the throttle response. Additionally, G-Power offers a top speed delimiter.
Elsewhere, G-Power has installed new Hurricane RR forged alloy wheels which measure 23×11 at the front and rear completed with 305/25 high-performance tyres.
[showhide]
"G-POWER X6 M50d F16 – power upgrade to 455 hp (355 kW) and 870 Nm
Already in stock conditions, the heart of the BMW X6 M50d is a true masterpiece of German Engineering. It features not one, not two but incredible three turbochargers in different dimensions in order to provide the 3.0l six-cylinder engine with sufficient boost pressure.
Thus being the optimal basis for a power output enhancement by G-POWER to mighty 455 hp (335 kW) and 870 Nm of torque. The key to this transformation is the G-POWER D-Tronik 5 V1 power module or the equivalent D-Tronik 2 V1 ECU remap, each of which has specific advantages.
Being a plug and play device the Bi-Tronik 5 V1 power module is placed between the factory ECU and engine. Its highlight is the intelligent feature to remain inactive under partial load conditions, all incoming data passing through without change. However, a demand for full throttle instantly triggers the unique fueling and boost curves that create an additional 74 hp and 130 Nm of torque.
In parallel with the D-Tronik 5 V1 module G-POWER also offers their D-Tronik 2 V1 upgrade, which involves bespoke remapping of the factory ECU. Where the Bi-Tronik 5 V1 module is a one size fits all solution, the bespoke remapping procedure of the Bi-Tronik 2 V1 conversion allows the individual wishes of the customer vis-à-vis throttle response and power delivery characteristics to be written into the software.
Next to the power output increase G-POWER is offering the option to delete the serial top speed restriction, as well. In order to do so the limit for the top speed is raised to a theoretical value that cannot be achieved in practice, thus the G-POWER X6 M50d is able to achieve a top speed that is in accordance to its power output of 455 hp (335 kW).
From the outside the G-Power X6 M50d shows its new potential with ultra-light HURRICANE RR forged alloy wheels. These are sized 11.0×23-inch and shod with 305/25 ZR23 high-performance tyres.
Forged from aircraft-grade aluminium, these very strong and ultra-light alloy wheels are normally available in "Jet Black", "Gun Metal Grey" and "Stardust Silver" finishes. If you opt for the "Diamond Cut" finish, this wheel is also available partially or completely polished. G-Power also offers a bespoke service with the possibility of a personal signature on each wheel up to a maximum of 15 characters.
Further details along with the prices for the G-POWER D-Tronik 2 V1 respectively D-Tronik 5 V1 or the 23'' HURRICANE RR forged wheels are listed in our online shop."
[/showhide]