German tuning company ABT Sportsline has just unveiled its range of upgrades for the latest Audi A6 range. The tuner has developed a selection of visual and mechanical modifications for all variants and engines available for the A6.
Starting with the entry-level diesel four-cylinder TDI engine A6, ABT has managed to extract 215 hp and 440 Nm of torque compared to the standard 190 hp and 400 Nm offered. Elsewhere, ABT has bumped power from the 3.0-litre TDI engines from 320 hp and 326 hp respectively to 365 hp and 710 Nm.
On a petrol engine front, the standard 3.0-litre TFSI has been fettled from 333 hp and 440 Nm through to 410 hp and 520 Nm. ABT has opted against tuning the Audi S6 suggesting that it is already operating at its limits.
Beyond the engine changes, ABT has developed new height adjustable springs for the A6 range as well as a control system for air suspension equipped models which drops the ride by 20 mm at the front and 15 mm at the rear. New quad tailpipes have also been developed.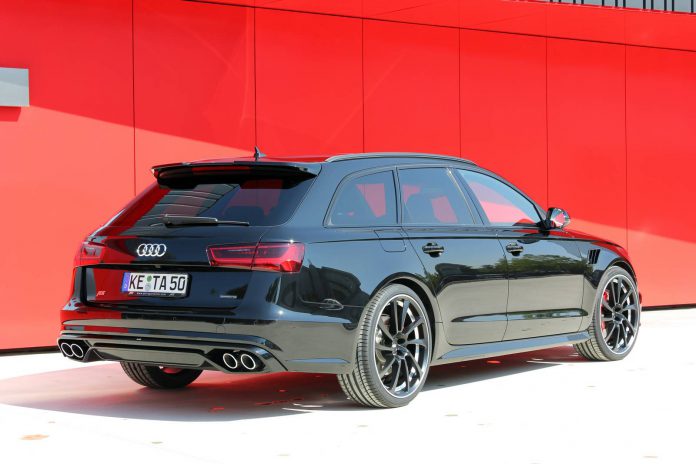 On a visual and aero front, there are new fender inserts, mirror covers, a prominent roof-mounted rear spoiler and new rear skirt.
[showhide]
"ABT Sportsline 2015 – Press release CW37
Power Training for the Audi A6 ‒ Up to 365 HP for Diesel or 410 HP for Petrol Engines
The general fitness trend is great: In any case, it clearly demonstrates that it does not take a professional athlete to achieve impressive performances. ABT Sportsline has achieved enormous training success with the standard Audi A6 ‒ since not all cars are destined to be an S6 or RS6: "A 2.0 or 3.0 TDI or even 3.0 TFSI are wholly sufficient to achieve race-car performances," explained CEO Hans-Jürgen Abt. "At least if one invests in ABT Power New Generation."
The separate ABT control unit, which includes independently developed software, can extract 215 HP/158 kW and 440 Nm from the four-cylinder Audi A6 TDI with 190 HP/140 kW and 400 Nm. The standard 320 HP/235 kW and 326 HP/240 kW 3.0 TDI are at the other end of the Diesel spectrum. Both can reach 365 HP/268 kW and 710 Nm (series 650 Nm respectively), thanks to ABT. Audi fans with petrol in their veins also do not have to despair: The standard 3.0 TFSI with 333 HP/245 kW is pushed to 410 HP/301 kW with a torque increase from 440 Nm to 520 with the new ABT Power New Generation. The official four-litre S6 does not have much more to offer.
"We not only add muscle to the game, but also increase general agility," added Abt. The electronic suspension lowering system ABT Level-Control is part of the assortment for vehicles with air suspension; "steely" drivers receive height adjustable suspensions springs upon request. The optional ABT sport brake system with 8-piston fixed callipers is available for drivers who really work the break as they enter curves.
ABT Sportsline is also introducing a comprehensive optics package for the Audi A6: The styling assortment begins with aggressive fender inserts and mirror covers in high-gloss visible carbon and continues with two different rear spoilers for vehicles with the S-line package and the emblem set "Black Chrome". But we saved the best for last: the ABT Sportsline rear skirt set including quadruple rear muffler and 89 millimetre pipe diameter. ABT mechanics installed 9×21 inch light-alloy wheels type DR on the photo vehicle. Are you looking for an alternative? Light-alloy wheels ER-C or FR from 19 inches are a good choice.
The new ABT Audi A6 – data and facts
ABT ENGINE TECHNOLOGY
Engine: 3.0 TFSI, 2.995 cc capacity, V6
Performance tuning: ABT POWER New Generation
Performance: 410 HP/ 301 kW (standard: 333 HP/ 245 kW)
520 Nm (standard: 440 Nm)
Engine: 3.0 TDI, 2.995 cc capacity, V6
Performance tuning: ABT POWER New Generation
Performance: 365 HP/ 268 kW (standard: 320 HP/ 235 kW)
710 Nm (standard: 650 Nm)
Engine: 3.0 TDI, 2.995 cc capacity, V6
Performance tuning: ABT POWER New Generation
Performance: 365 HP/ 268 kW (standard: 326 HP/ 235 kW)
710 Nm (standard: 650 Nm)
Engine: 2.0 TDI, 1.968 cc capacity, R4
Performance tuning: ABT POWER New Generation
Performance: 215 HP/ 158 kW (standard: 190 HP/ 140 kW)
440 Nm (standard: 400 Nm)
ABT AERODYNAMICS
ABT fender inserts
ABT mirror covers (carbon fibre with ABT logo)
ABT rear spoiler
ABT emblem set "Black Chrome"
ABT rear skirt set (contains rear skirt insert and rear muffler)
ABT WHEELS in FR-, ER-C or DR-Design in 8.5 x 19 inch, 9.5 x 20 inch or
9.0 x 21 inch
Available also as complete set of wheels with sports tires in 255/40 R19, 255/35 R20 or
265/30 R21
ABT EXHAUST TECHNOLOGY
ABT rear muffler system with four end pipes shields (89 mm Ø)
ABT SUSPENSION
ABT Level Control (for air suspension; FA about 20mm, RA about 15mm lowering)
ABT height adjustable suspension springs
ABT BRAKE TECHNOLOGY
ABT sport brake system (for front axle, 8-piston fixed callipers, painted black with silver ABT logo; brake disc 380 x 34 mm incl. steel flex brake lines)
ABT INTERIOR
ABT floor mats (black with silver ABT logo and curved lines)
ABT trunk mat (black with silver ABT logo and curved lines)
ABT start stop button with illuminated ABT logo
ABT LED-door entrance lights with ABT logo"
[/showhide]