The Pre War Luxury and Touring Class features some stunning machinery. Two of the headline vehicles have been provided by the Mullin Automotive Museum in Los Angeles and we were very keen to take a closer look.
The first car was the 1902 Oldsmobile Curved Dash Two-seater Runabout. The earliest car on display at this year's Salon Privé, the Oldsmobile is an interesting contrast to the cars of today. It is widely acknowledged as the first mass produced automobile. 2,500 were built during 1902 with a total production run of somewhere close to 19,000.
The Oldsmobile features a flat-mounted water-cooled single-cylinder engine producing around 5 hp. It was intended as a two seater town car with two forward speeds and one reverse. Apparently Oldsmobile only went with the Curved Dash model as their other prototypes had been destroyed by a factory fire. It turned out to be a roaring success which help put the company on the map.
The first of the Mullin Automotive cars is the 1934 Voisin Type C27 Roadster. French company Voisin started off producing aeroplanes before moving into the Automotive market in the 1920's. Chassis 52001 is one of few coach built examples, produced by Joseph Figoni. It has that sought after teardrop, streamline shape which has come to define cars of that era.
Only two Voisin Type C27 Roadster were produced. They both featured a 3.0 litre inline 6 cylinder engine with 105 bhp. Mullen acquired the car during a curious transaction with the previous owner, Jacques Buson who demanded a rare aircraft engine in exchange. It is an extremely rare machine and a pleasure to see it this side of the Atlantic!
Next up is the 1937 Bentley 4 1/4 Sedanca Coupé, Bentley had become insolvent by 1931 and was purchased by Rolls-Royce who attempted to turn business around. Following on from the first Rolls-Royce era Bentley, the 3 1/2 litre, the 4 1/2 litre proved very successful. The Sedanca Coupe was coach built by Gurney Nutting.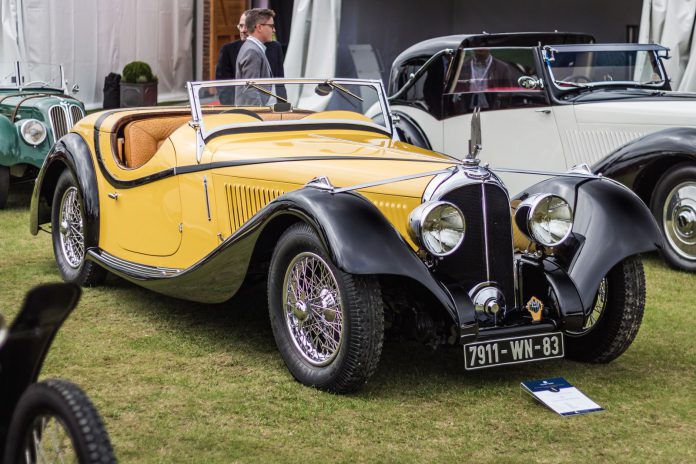 Eight years after producing its first car, BMW was taking on and beating some of the most established names in the business with the 1937 BMW 328. It produced 80 hp from a 2.0 litre engine which helped it to win its class at the Mille Miglia, Le Mans, Spa 24 Hours and the Tourist Trophy. In 1940, it even managed to win the 24 Hours of Le Mans outright. A British registered example of this incredible piece of history is on display at Salon Privé.
Another competitor in this fierce category is a 1938 Lagonda Rapide V12 Drophead Coupé. The Lagonda Rapide V12 Drophead Coupe is one of 12 examples which feature a 4.5 litre V12 engine and 180 bhp. The Lagonda was loved by the aristocracy for its 100 mph plus cruising ability and its handsome looks.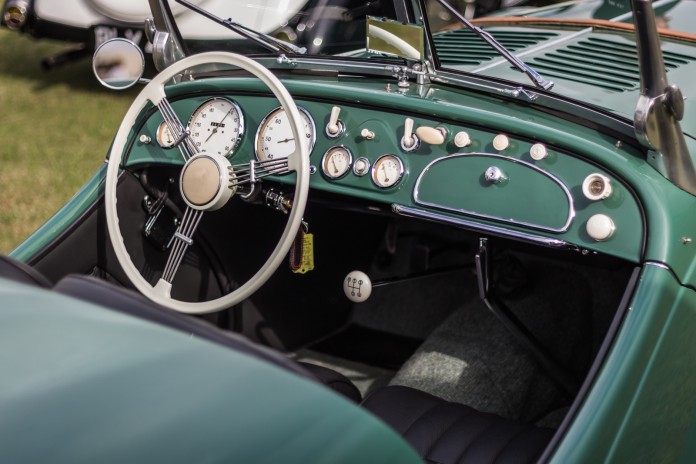 Last but certainly not least is the 1937 Delahaye 135MS Cabriolet. Its difficult not to notice the French art deco influences. Designed by Joseph Figoni who also designed the Voisin that provides the competition in this category, the 135MS Cabriolet is one of three surviving examples.
This particular car is known to some as The Star of India. It was commissioned by explorer and businessman Casimir Jourde and bears the chassis number 49150. It was exported to India where it remained until it was discovered in the 1980's, restored in Britain, displayed at Pebble Beach and purchased by Mullin. It features a 3.6 litre inline 6 pushing 130 hp.