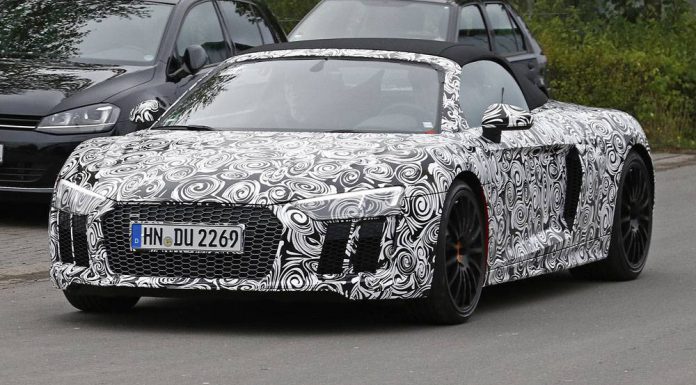 The latest-generation 2016 Audi R8 Spyder has just been spied testing for the very first time. While the car pictured features heavy camouflage across all its body panels, its key design changes are visible.
At the front, everything of the following R8 Spyder prototype looks just like the coupe. It is of course the roof which is different. In place of the fixed hardtop is a folding soft top which looks very similar to the roof of the outgoing Audi R8 Spyder.
Alongside the folding soft top is a custom decklid which will cover up the roof when it is retracted. It is somewhat surprising that the new R8 Spyder will feature a folding soft top rather than a hardtop like the recently revealed Ferrari 488 Spider and the McLaren 650S Spider. It will therefore be interesting to see if the Lamborghini Huracan Spyder features a folding hard top or a soft top like the following R8.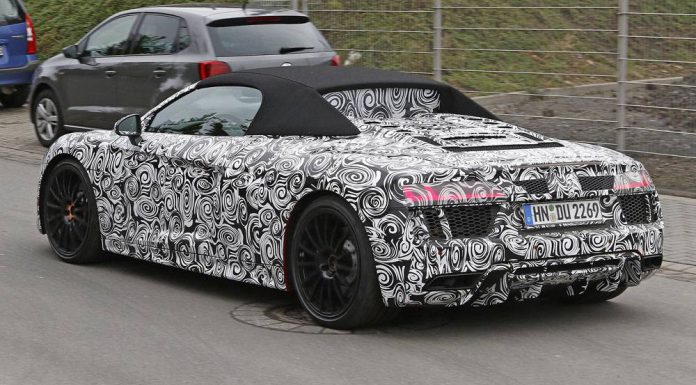 When the R8 Spyder launches, it will inevitably be available in the same variants as the coupe. Consequently, two V10-powered models will be offered. As for the range-topping Audi R8 V10 Plus Spyder, its 5.2-litre V10 engine will deliver 610 hp and 560 Nm of torque. As a result, it should be capable of similar acceleration times to the coupe. Due to the added weight however, expect a few tenths to be added to its 0-100 km/h and 0-200 km/h times.