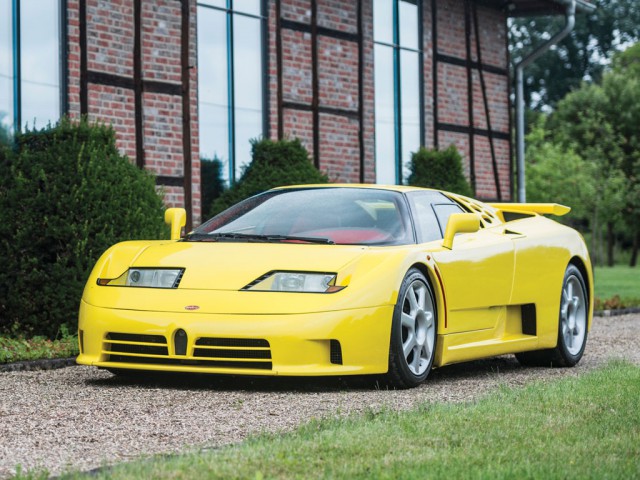 RM Sotheby's annual London auction has been one of UK's premier collector car auctions since 2007. In 2014, the total value of auctioned cars exceeded £22 million and this year, the auction is slated to take place on 7 September. The event will be held in partnership with the Concours of Elegance, which will transpire at the Palace of Holyroodhouse in Edinburgh, Scotland.
More than 70 cars will go under the hammer at the auction and one of them will be a Bugatti EB110 Super Sport (SS) with yellow exterior paint and red interior. The car features a 3.5-litre V12 engine, fitted with four turbochargers and mated to a 6-speed manual gearbox. The power output the stands at 610 hp. Furthermore, the EB110 SS can sprint from 0 to 96 km/h in just 3.2 seconds and has a top speed of 348 km/h.
The EB110 SS on sale at RM Sotheby's London auction was last serviced in 2014 and has had two owners, with the second one only driving it for around 10,000 kilometres. The car was recently shown at the Concours d'Elegance at the Techno Classica in Essen earlier this year, where it took home the 'Best of Show' title.
The EB110 SS was first announced at the Geneva Motor Show in 1992. However, Bugatti went bankrupt in 1995, due to the effects of a worldwide economic recession, and the assets of the company were sold to Jochen Dauer. Thus, only 33 EB110 SSs could be produced and this is one of the last few ones to have been rolled out of the company's factory.