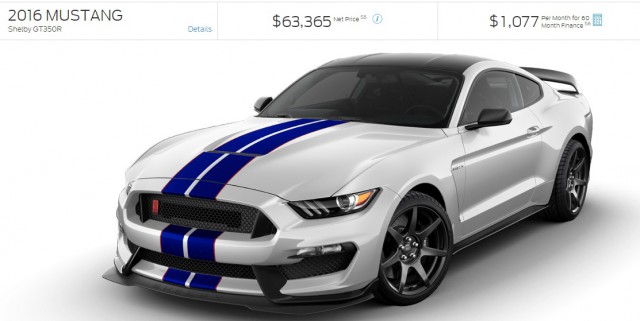 The online configurator tools for both the Ford Mustang Shelby GT350 and hardcore GT350R have just been released.
Alongside offering all the personalisation options you could ever want from a configuration tool, the prices for the two models have also been confirmed after being leaked earlier in the year. The GT350 starts at $48,696 while the more expensive Shelby GT350R is priced at $62,195. Rather amazingly, that is $12,805 less than the Chevrolet Camaro Z/28 which the GT350R was created to compete against.
As you probably know by now, the 5.2-litre V8 engine of the two models redlines at a sky-high 8250 rpm. The engine just so happens to be the most power dense and powerful naturally aspirated road engine ever produced by Ford. It delivers a total of 526 hp and 429 lb-ft of torque. That horsepower figure means that this engine delivers 102 hp per litre of displacement. Peak power is reached at 7500 rpm while maximum torque is found at a lower 4750 rpm. Interestingly, 90 per cent of torque is available from 3450 rpm to 7000 rpm.
Another key element of the engine is its use of an 87 millimetre throttle body, which just so happens to be the largest ever used on a Ford engine. In both the Mustang GT350 and GT350R, this engine is mated to a six-speed Tremec manual transmission.