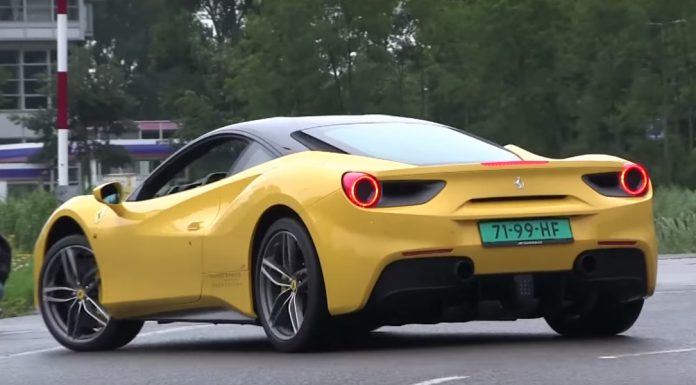 The very first Ferrari 488 GTB to arrive in the Netherlands has just been filmed on the streets for the very first time. Specifics about this 488 GTB are scarce including what number it is to be delivered to a customer. Whatever the case may be, it is certainly one of the very first examples to leave the hands of Ferrari and go into the garage of an enthusiast.
[youtube]https://www.youtube.com/watch?v=-L2at-zsM9Q[/youtube]
Undeniably the most eye-catching element of this 488 GTB is its bright yellow paint scheme dubbed Giallo Modena. The yellow body is then contrasted with a gloss black roof as well as A, B and C pillars all painted in black. Additionally, a black rear diffuser and air vents are found as are a set of black side skirts. Completing the exterior look are a set of gorgeous twin five-spoke wheels and yellow brake calipers.
In case you didn't know, the new 3.9-litre twin-turbocharged V8 engine of the Ferrari 488 GTB is significantly more powerful than the naturally-aspirated 4.5-litre V8 used by the outgoing Ferrari 458 Italia. As a matter of fact, the Ferrari 488 GTB delivers 660 hp at 8000 rpm as well as 560 lb-ft of torque at 3000 rpm. Incredibly, torque from this engine is also higher than the 509 lb-ft of the 6.0-litre V12 found in the Ferrari F12 Berlinetta.