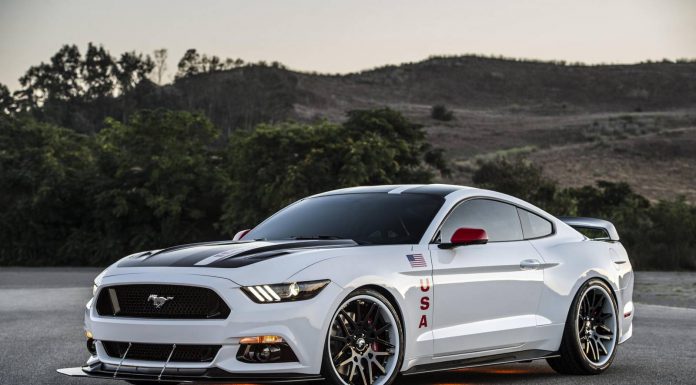 Unveiled earlier in the month, it has just been confirmed that the bespoke Ford Mustang Apollo Edition created for the AirVentre festival in Wisconsin has sold for an impressive $230,000.
That final figure is particularly noteworthy as all the funds will directly benefit the Experimental Aircraft Association helping to fund the Youth Aviation program.
The design of the car was led by Ford designer Melvin Betancourt and as with previous Mustangs unveiled at EAA AirVenture, it includes a selection of bespoke elements to ensure it stands out from the typical sixth-gen Mustang. For starters, the Mustang Apollo Edition is painted in white and black and combines a range of gloss and matte panels. Additionally, a prominent carbon fibre front splitter has been fitted as has a bold rear diffuser and new rocket panels.
Elsewhere, a rear wing reminiscent of the Shelby Mustang GT350R has been fitted. Also included are a set of custom wheels while the interior includes performance gauges, custom sill plates and a new instrument cluster. Red brake calipers are also found.
Arguably of most importance is the fact that the Mustang GT's 5.0-litre V8 has been supercharged and now pumps out 627 hp and 540 lb-ft of torque. A new exhaust system has also been installed as have Brembo brakes.