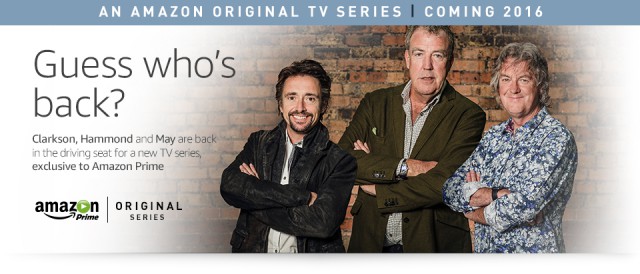 Just a couple of days after it was confirmed that Amazon Prime had reached a deal with former Top Gear hosts Jeremy Clarkson, Richard Hammond and James May, it has been revealed that Amazon paid $250 million to secure a three-year deal consisting of 36 episodes.
Importantly, that $250 million isn't what the former Top Gear hosts and former TG producer Andy Wilman will be paid. Instead, it is the complete production budget for the show alongside all salaries and transport.
In the UK, Amazing Prime doesn't have as many subscribers as rival streaming service Netflix has. The creation of this new motoring show featuring the world's most well-known automotive journalists and presenters is inevitably part of a push on Amazon's behalf to increase its subscription numbers hence the massive investment in the program.
Recently discussing the show, vice-president of Amazon Prime Video in Europe, Jay Marine, said "Customers told us they wanted to see the team back on screen, and we are excited to make that happen.
"Millions of Prime members are already enjoying our ground-breaking original shows. We can't wait to see what Jeremy, Richard, James and the team will create in what is sure to be one of the most globally anticipated shows of 2016."
The format of the new motoring show remains clear with it also not yet having a name. The deal follows on from reports that Clarkson, Hammond and May were in fact in talks with Netflix for an original series.