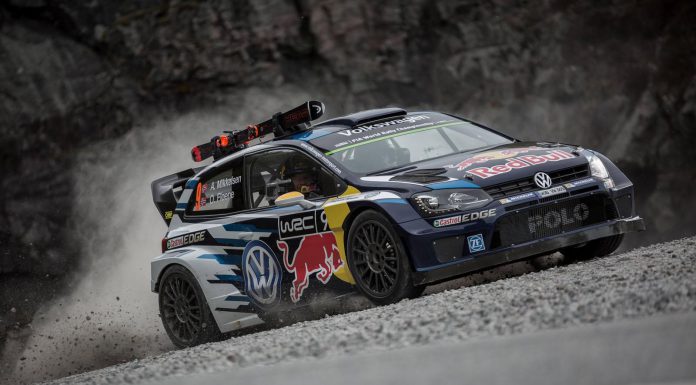 In a high-speed stunt reminiscent of the glory days of Top Gear, Volkswagen recently pitted its latest Polo R WRC racer against a downhill gold medal-winning skier in an epic race between the pair.
Behind the wheel of the Volkswagen Polo WRC is one of the German marque's rally drivers, Andreas Mikkelsen. As for the man on the skis, it was Aksel Lund Svindal with the skiing champion tackling some exceptionally difficult terrain in the heart of Norway.
[youtube]https://www.youtube.com/watch?v=c9yiq8lXdB4[/youtube]
By comparison, the Polo R was drifting and powering around the Lysevein road which runs for 29 km and includes 27 hairpins. While the 'race' doesn't produce a winner as such, it does provide some truly incredible shots of the rally car in action.
Discussing the stunt and Svindal as his co-driver, Mikkelsen said "Aksel immediately grasped what it was all about, and noticed important details, such as when the car lost grip for a hundredth of a second."
[showhide]
WORLD SKIING CHAMPION VERSUS RALLY ACE: SVINDAL AND MIKKELSEN RACE DOWNHILL TO FJORD
Wolfsburg (28 July 2015). A ferry that waits for nobody, breath-taking fjord scenery in Norway and a unique race. That is what you get when Aksel Lund Svindal – Norway's downhill gold medallist – meets compatriot and Volkswagen rally driver Andreas Mikkelsen. The result was a wonderfully wild preparation for round eight of the FIA World Rally Championship (WRC) – the Rally Finland, which gets underway on Thursday – and provided some captivating videos and photos.
Svindal and Mikkelsen were embroiled in a spectacular head-to-head sprint on the world-famous Lyseveien road in the southwest of Norway, which features 27 hairpins spread over 29 kilometres. The two Norwegian sportsmen agreed to an unusual competition, before catching the ferry home together: Mikkelsen, at the wheel of his 318-hp Polo R WRC, would race Svindal on his skis – the latter flat-out off-piste, while Mikkelsen had to wind his way between massive snowbanks, some of which towered up to eight metres in height. All the time, both racers were up against the clock too.
Svindal's breath-taking jump over the Polo R WRC
"The fjord, the steep mountainsides, the high snowbanks, the winding road – driving here is a dream," said a beaming Andreas Mikkelsen. The highlight of the action: as Mikkelsen tore down the hillside, Svindal produced a breath-taking jump across the road, whilst the Volkswagen Polo R WRC hurtled under him at over 100 km/h. "To pull that off, I had to plan the speed and timing of the jump perfectly," explained Svindal. With insufficient snow to ski on further down the slope, Mikkelsen took Svindal on board the WRC Polo as a co-driver for the final few kilometres.
Shared passions: skiing and cars
According to Mikkelsen, Svindal was an impressive co-driver. "Aksel immediately grasped what it was all about, and noticed important details, such as when the car lost grip for a hundredth of a second," said the 26-year-old, who skied for the Norwegian youth team before turning to rallying. Svindal was also thrilled with his unique taxi ride: "A priceless experience! I really hope I get the chance to do that again some time," said the 32-year-old car enthusiast. "I have to confess to being a little bit jealous of Andreas for driving in rallies." When asked whether Svindal could be his next co-driver in the World Rally Championship, Mikkelsen answered with a broad grin: "I would love to have Aksel as my co-driver. But he would have to lose a bit of muscle mass first."
[/showhide]