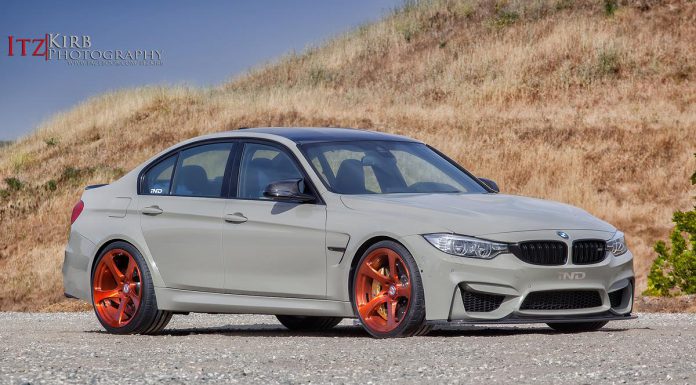 The BMW F80 M3 features a 3.0-liter inline-six engine, capable of producing 431 hp and 550 Nm of torque. Customers can choose between a six-speed manual or a seven-speed M-DCT transmission, which transfers the power to the rear wheels of the car.
The fifth-generation M3 can sprint from 0 to 100 km/h in just 4.1 seconds, with an electronically limited top-speed of 250 km/h (280 km/h with the optional M driver's package). It was unveiled at theDetroit Auto Show 2014 and is assembled at BMW's facility in Regensburg, Germany.
Above, we see a stunning grey F80 M3 equipped with two different sets of HRE wheels. Although it's a bit odd to have wheels of different colours on either side of the car, these belong to HRE's highly-rated Street Collection. On the right side of the car are the the bronze RS102M wheels and the other side features blue RS101M wheels.
The bronze wheels look more imposing but the blue ones go well with the M3's exterior paint. HRE Performance Wheels is a California-based company that produces 3- and 1-piece forged aluminium alloy wheels. All their products are manufactured in the United States, apart from the FlowForm wheels and the Carbon Series barrels, which are made in Japan and Germany respectively.