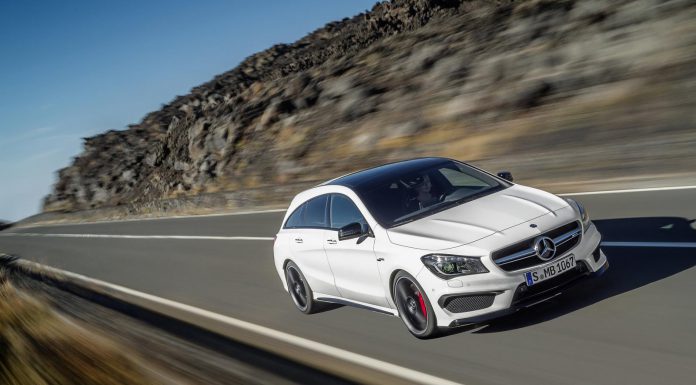 On the back of the 2016 Mercedes-AMG A45 being revealed with more power and a refreshed design, the 2016 CLA45 and GLA45 models have also been released. As expected, they don't feature any visual updates but include the performance modifications of the facelifted A45.
With this in mind, the 2.0-litre turbocharged four-cylinder engine powering the 2016 Mercedes-AMG CLA45 and GLA45 delivers 376 hp and 475 Nm of torque. Alongside the small horsepower and torque gains, Mercedes-AMG has also revised the seven-speed dual-clutch transmission of the 2016 models.
As such, shorter ratios are featured in 3rd and 7th gear with shift times also reduced. Consequently, the new Mercedes-AMG CLA45 sedan hits 100 km/h in a mere 4.2 seconds which is 0.4 seconds faster than its predecessor. As for the CLA45 Shooting Brake, it reaches the 100 km/h mark in 4.3 seconds while the slightly heavier GLA45 takes 4.4 seconds.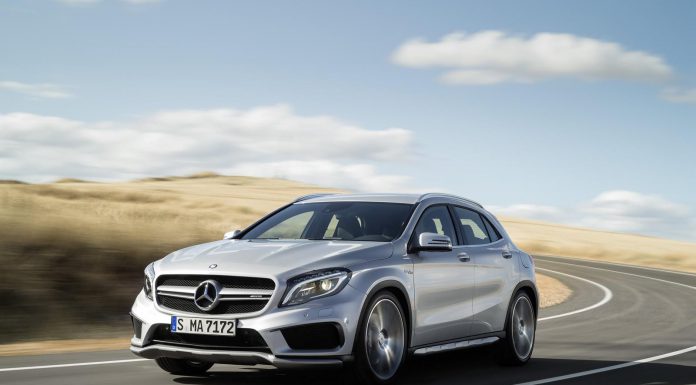 Despite the performance gains, the cars remain as fuel efficient as the outgoing models. With that in mind, the CLA45 sedan and Shooting Brake can average 6.9-litres of petrol per 100 km while the GLA45 sips down 7.4 l/100 km.
Also for 2016, new driving modes are offered. These are Comfort, Sport, Sport+, Individual and Race. The AMG Dynamic Plus package is now also available with it including a mechanical front axle locking differential. The AMG Ride Control sports suspension system has also been added as an option for the 2016 CLA45 and GLA45.
[showhide]
Affalterbach. Mercedes-AMG has given its entry-level models, the CLA 45 4MATIC, CLA 45 4MATIC Shooting Brake and GLA 45 4MATIC, a comprehensive update and as such is offering even more driving pleasure and emotional appeal than ever before in the compact car segment. The technical innovations and further individualised items of equipment are set to place the sporty powerhouses ahead of the competition once more. The vehicles are available to order with immediate effect and will be in dealerships from September. The CLA 45 4MATIC costs €56,673.75[1], the CLA 45 4MATIC Shooting Brake €57,268.75 and the GLA 45 4MATIC €56,168.00 As already seen on the recently launched A 45 4MATIC, the AMG 2.0-litre four-cylinder turbocharged engine now produces 280 kW (381 hp), representing an increase of 15 kW (21 hp) over the preceding models. The maximum torque of the world's most powerful series production four-cylinder engine has been increased by 25 Nm to 475 Nm. The revised gear-ratio steps of the 7-speed dual clutch transmission and the new DYNAMIC SELECT transmission modes, familiar from the Mercedes-AMG GT, lift overall performance to an even higher level. Driving dynamics can be further enhanced with optional extras in the guise of the AMG RIDE CONTROL sports suspension and the AMG DYNAMIC PLUS package.
The comprehensive modifications to the engine, transmission, suspension, electronics and equipment promise a further improvement to the highly dynamic driving experience: "Thanks to the optimally coordinated measures, our compact sports cars are not only the most powerful but also the most agile models in their class", notes Tobias Moers, Chairman of the Board of Management of Mercedes?AMG GmbH. "They have all the prerequisites for enabling us to continue seamlessly with our success story in this highly competitive environment".
The breathtaking performance plays a significant role here: the CLA 45 4MATIC now accelerates from zero to 100 km/h in 4.2 seconds, which is 0.4 seconds faster than its predecessors (Shooting Brake: 4.3 seconds, GLA: 4.4 seconds). At the same time it has been possible to retain the textbook consumption level on a par with the previous models: even the NEDC fuel consumption figures of the CLA 45 4MATIC and CLA 45 4MATIC Shooting Brake, from as low as 6.9 litres per 100 kilometres (corresponding to 161 g/km CO2), can be considered exemplary. The GLA 45 4MATIC consumes 7.4 l/100 km (corresponding to 172 g/km CO2).
Individual driving experiences: the AMG DYNAMIC SELECT transmission modes
The engine, transmission and steering characteristics of the Mercedes-AMG compact models can be changed via rotary switch with the new, standard-fit AMG DYNAMIC SELECT transmission modes. There is a choice of four modes, namely "Comfort", "Sport", "Sport+" and "Individual" or "Race" (in conjunction with AMG RIDE CONTROL sports suspension).
Another new feature is the AMG DYNAMIC PLUS package (€2618), which sharpens the driving dynamics even further. One major component is the newly developed, mechanical front axle locking differential, which significantly improves traction when driving in a sporty style. The greatest advantages become apparent during powerful acceleration out of bends, where the locking differential allows maximum grip and high lateral acceleration. In addition, the compact sports models are stabilised even more effectively during load changes and in the high speed range.
The AMG DYNAMIC PLUS package also includes the AMG RIDE CONTROL sports suspension (€1237.60 when ordered individually): this comprises the additional "Race" transmission mode as well as two-stage adaptive adjustable damping. The system operates fully automatically, adapting the damping forces for each wheel according to the driving situation and road conditions.
Shorter ratios: the AMG SPEEDSHIFT DCT 7-speed sport transmission
Another dominant factor in the agile and dynamic character of the power transfer is the standard-fit AMG SPEEDSHIFT DCT 7-speed sports transmission. Thanks to the now shorter transmission ratios in 3rd to 7th gear, the driver experiences even more dynamic acceleration in all speed ranges. This is because together with optimised response and shift times, the closer ratio spread ensures better transitions when upshifting.
Also as standard, the new AMG compact sports cars transfer the driving power to all four wheels for optimum traction and maximum driving pleasure. The stepless torque distribution of the AMG Performance 4MATIC system ranges from 100 percent front-wheel drive through to a 50:50 split between the front and rear axles. A multiple-disc clutch integrated into the rear axle differential redirects the engine torque to the rear wheels as required within fractions of a second.
[1] All prices: recommended retail prices for Germany, including 19% VAT.
[/showhide]